In late October, Money20/20 USA was back, with an estimated 8,000 participants from 94 countries, and 3,000 companies converging on a chilly Las Vegas. Attendees were there looking to meet market leaders, to learn the latest fintech trends, and perhaps to warm the hearts and minds of the gloomy economists on the current state of the economy.
The Wildfire team was there, holding court in our cabana at the Venetian. We enjoyed having a poolside oasis outdoors where people could take a break from presentations and networking. Although we did our own share of networking... albeit sitting at our jacuzzi!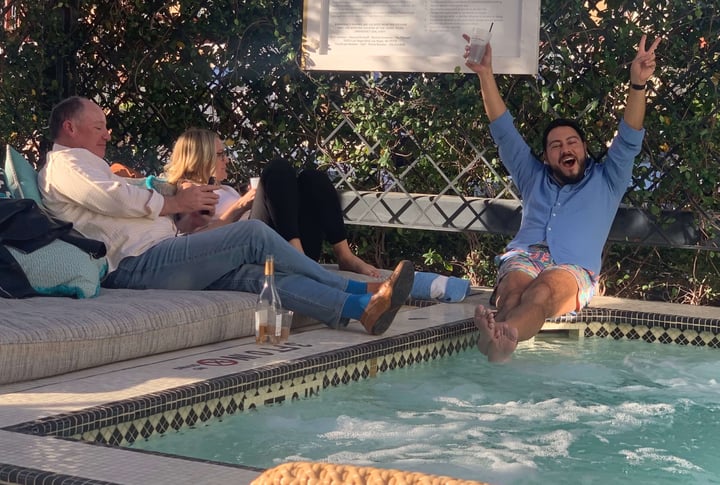 During the show, we met many of the world's top financial minds, fintech leaders, and cutting-edge payments and banking technology innovators. We enjoyed getting insights in areas such as what's next in banking technology, and the customer experience in financial services and payments. So what were some of the themes we saw?
1) Collaboration
"If you want to go fast, go alone. If you want to go far, go together." The theme of partnering and collaboration was in full swing at Money20/20 USA this year. We saw a ton of strategic partnerships and collaboration announcements. The discussion among many leaders we met was no longer about companies competing neck and neck to build innovations in-house, but instead, about partners leveraging each others' strengths to create better customer experiences.
Here are just a few of the new partnerships companies announced at Money20/20 USA:
2) Financial Wellness
We've been seeing this ourselves over the past year, but it became an even more consistent theme during our conversations with banking, technology, and fintech leaders at Money20/20 USA. In general, banks and payment companies are having a collective epiphany - they are looking to become partners with their customers and to help them improve their financial state through additional services like rewards. Many banks are shifting their success metrics to engagement and loyalty, rather than total deposits. In effect, companies want to become an essential part of their customers' daily lives, not just a place where people park their money for the short term.
One of the ways this trend is manifesting in the market is through the proliferation of "Super Apps." Financial companies in particular are trying to figure out how to be ubiquitous in consumers' financial lives by being a part of many elements of their day to day financial activity, such as daily budgeting, savings, longer-term financial planning, P2P payments, shopping incentives/rewards, and more.
The bigger question is, who are the suppliers who are going to help the banks build these types of tools? PayPal and Walmart are two big companies whose financial Super Apps currently look to be the market leaders, and they built their apps in house. Alternately, some companies build out their Super App functionalities through M&A (see Cash App from Block - they bought Afterpay to add BNPL, and Tidal to add music streaming, to name a few), and still others partner to bring new functionality to their apps (see Affirm partnering with Verifone to make their payment option available through Verifone's network.)
3) Our Take: What's Hot, What's Not
Here's our short recommendations on some hot financial topics:
Sell: BNPL
Hold: Crypto
Buy: Loyalty
In recent years, what was once the darling of the financial industry, Buy Now Pay Later, has been met with scrutiny. Customers, not understanding the implications of paying for things with these types of loans, have gotten into financial trouble. Investors and the market are spooked on BNPL, and it's hard to say when (or if) this payment type will re-surge in popularity. We believe that BNPL has an uncertain future, so our take is Sell!
Then there's cryptocurrency. What a difference a year makes. At Money20/20 USA 2022, there was a markedly reduced crypto presence compared to last year. As the crypto market has tanked over the past 10 months or so, we concurrently noticed far fewer crypto and crypto-adjacent businesses attending and exhibiting (and also a lot less speeches/sessions). Though there's still a lot of talk around Web 3 and decentralized finance (and even the metaverse as part of defi), time will tell if crypto too will improve its fortunes. Our recommendation: Hold.
Loyalty and Rewards. During inflation and recession, payment companies must get more efficient and strive to keep customers. We heard repeatedly that money-saving features and ways to help customers easily earn and keep more money, with products like rewards programs, are becoming more in-demand. Recommendation: Buy!
These products are rapidly moving from "nice to have'' status, to "need to have." A few factors on the bank side are at play: the depletion of interest rates, the compression of interchange fees, and disruption by neobanks creating pressure on banks to innovate and unfold new ways to delight their customers.
And on the consumer side, our recent whitepaper illustrates new expectations: 80% of consumers consider cashback an important feature when choosing a new bank, 63% of them expect shopping rewards from their credit cards, and 35% from their debit cards.
After a successful and eventful show, we're already looking forward to next year's Money20/20 USA. As always, it will be interesting to see what happens in the fintech, banking technology, customer experience, and payments niches, and what surprises will come about. We'll see you in 2023, Las Vegas!