In this Wildfire Employee Spotlight, we're talking to Frank Bae, one of our software engineers who works on our white-label platform helping to enable our partners to create their own cashback loyalty programs.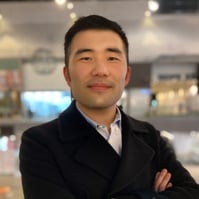 1. How long have you been with Wildfire?
I have been at Wildfire for a little over 4 months since joining late October 2021.
2. What are your main responsibilities at Wildfire?
I'm a software engineer working on the Wildfire white-label cashback platform. I research and implement new features that our partners may be interested in. I also work on building out the cashback browser extensions that we offer our partners.
3. Where did you work before Wildfire, and what were you doing?
I was in education working with elementary school students and working at summer camps. During my time in education I had a huge interest in crypto and after some careful thinking decided to enroll in a web development bootcamp. After the bootcamp, I worked for a small start up as a front end developer in creating crypto applications utilizing web3.js and metamask.
4. What are some things that you find different about Wildfire vs. past work experiences you've had?
Compared to my past work experiences, at Wildfire I immediately noticed we have well structured meaningful meetings. The team is respectful of everyone's time. The company has a lot of bright developers that I'm able to bounce ideas off of and everyone provides constructive feedback in a positive manner.
5. What are 3 words you'd use to describe the culture at Wildfire?
Collaborative, Innovative and Motivating.
6. What are your 2 most favorite things about working here?
Being able to work remotely, and collaborating with an incredible, down to earth team.

7. Do you have any pets? Who, and what, are they?
I currently do not have any pets, but would love a yorkie.
8. What do you like to do on weekends / your spare time?
Read the latest trends on crypto, watch documentaries, do archery, and explore new restaurants.
9. What is your favorite place you've ever visited, and why?
Oh man this is a tough one. If I had to choose one place it would definitely be Seoul, South Korea. I spent one year studying abroad there and got to experience the bustling nightlife, enjoy the food, and learn about the culture. Overall it was quite life changing and broadened my horizons.

10. What is one surprising thing about you that most people don't know?
I love candles (soy and bees wax) and actually have my own candle making kit.
11. Where would you like to retire?
Most likely here in LA County/ Southern California because it doesn't snow.
---
Thanks, Frank!

Stay tuned for more employee spotlight posts where you can meet more members of our awesome team.