Here at Wildfire, we're always researching and learning about the best ways to successfully market browser extensions for cashback rewards and coupons, so that we can help our clients build smart marketing plans for their own cashback browser extensions that will drive more installs and engagement.
With that in mind, we took a deep dive to analyze the marketing strategies behind Capital One Shopping.
What is Capital One Shopping?
As they explain on their own site, "Capital One Shopping is a free browser extension that automatically applies the best coupon codes at checkout and lets you know when prices drop on products you've viewed and purchased."
It's free for anyone, (you don't have to be a Capital One customer to use the extension), it's available on both desktop and mobile browsers, includes a price comparison tool and price drop tracker, and they also offer shopping rewards (cashback earned on purchases when activated.) Cash back is paid out via gift cards.
Capital One Shopping is a popular shopping extension, with an estimated 10 million users currently. It became a Capital One product after Capital One acquired the cashback rewards startup Wikibuy in 2018, with about 2 million users.
By our assessment, Capital One Shopping's target consumer is the online shopper that likes the idea of saving, but doesn't want to put in the manual work for coupons and deals that will actually work at checkout.
How Capital One Shopping's Marketing Drives Customer Acquisition at Scale
To reach that level of users in just a few short years, Capital One Shopping has employed a few core marketing strategies to great success.
Consistent Brand Messaging

Having identified their core customer persona, all of their messaging centers around the value proposition "simplifying the work of finding savings, for you."
This message is repeated consistently in various ways through all of their ads, and is supported in content & paid placements.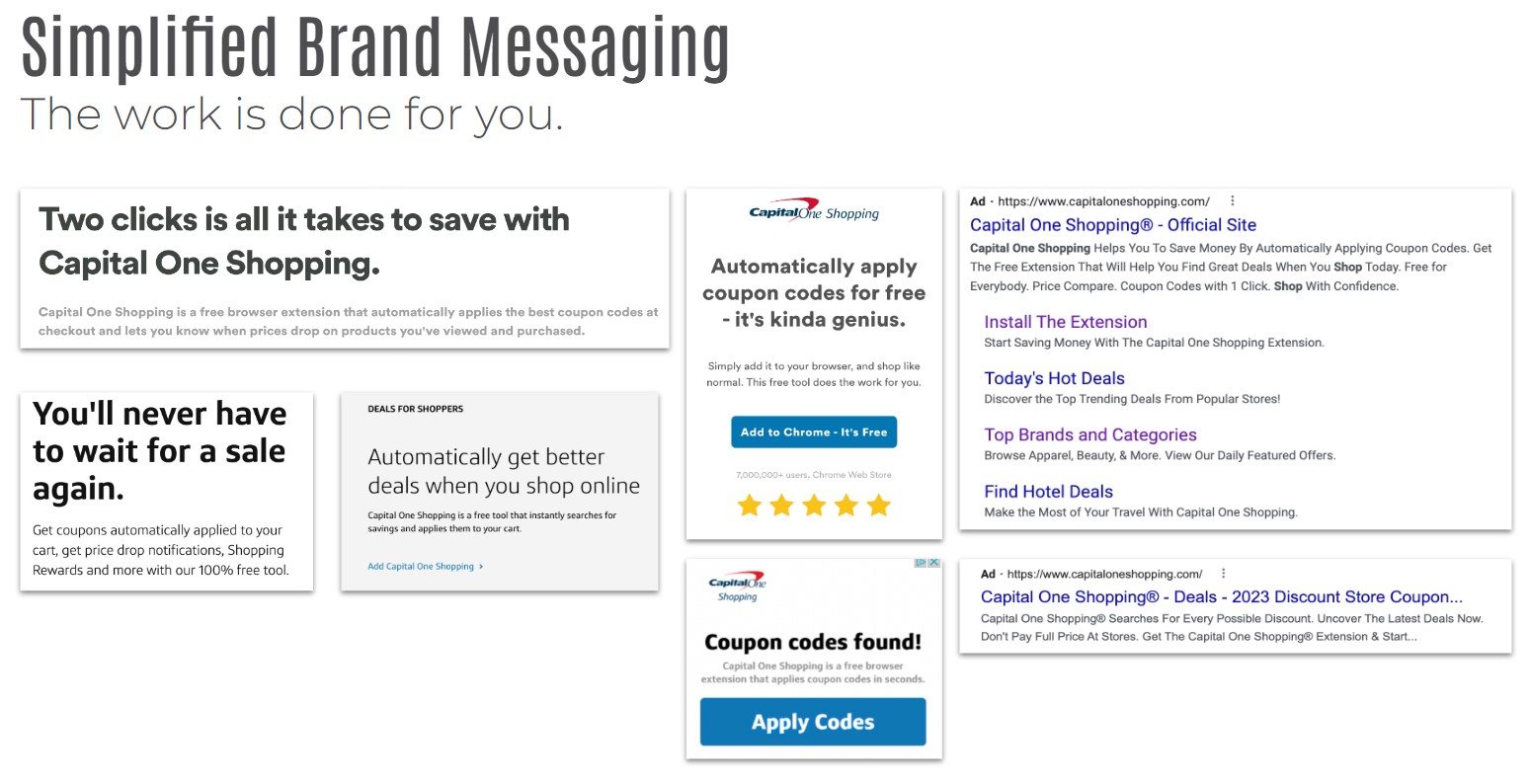 Aggressive Cross-Channel and Acquisition Marketing

They employ an aggressive marketing strategy focused on driving installs for their app.
It consists of growing brand awareness, capturing existing Capital One customers to install and use the tool, and investing in paid third-party marketing to further grow installs and usage.
Increasing Brand Awareness
In the past two years Capital One has significantly stepped up digital marketing for Shopping and amplified the brand in doing so. They've expanded brand awareness with Capital One customers in-app, and quite shamelessly employ persistent cross-sell messaging and emails to existing Capital One customers which further amplifies the brand.
Capital One Shopping also heavily participates in affiliate marketing, by incentivizing creators / influencers to develop content about Capital One Shopping and paying them for referred installs. If there is thought leadership or influence online about coupons and rewards, Capital One Shopping is likely mentioned by one of their affiliates.
Driving Acquisition from Existing Capital One Customers
Capital One Shopping most definitely benefits from having Capital One as a parent company (one of the top 10 banks in the US and the third-largest credit card issuer), and they leverage this connection to capture existing Capital One banking & credit card customers to installing the Capital One Shopping browser extension.
Here are just a few of the ways they're leveraging their exposure via Capital One customer touchpoints:
Cross-selling emails to Capital One customers: Monthly product email drops including being positioned as a credit card benefit for your respective card. In high shopping months (e.g. holidays), they send emails every 2 weeks.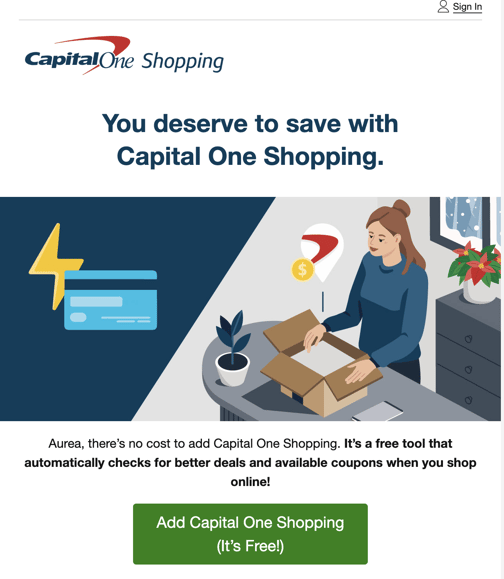 Prominent cross-sells placed on capitalone.com and in apps: Capital One Shopping product placements are peppered throughout Capital One customer dashboards and apps, and drive clicks to a specific product page.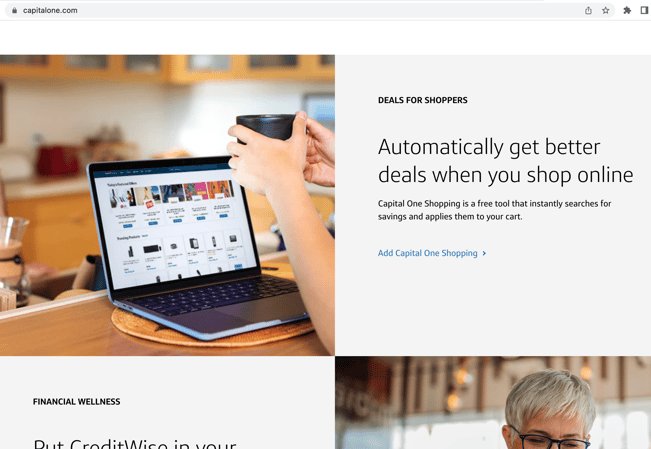 Relevant cross-sells & CTAs according to the Capital One surface being used: In the mobile app onboarding journey, adding the other surfaces is part of the onboarding process (regardless if you've done it or not). They also remind customers when they add the iOS app, to get the Capital One Shopping Mobile Safari extension. They even ask customers installing the mobile Safari extension, if the customer would like a reminder to download the desktop extension. Plus, they send multiple reminder emails to get the desktop extension.
Driving New Customer Acquisition
Capital One Shopping also employs acquisition marketing plans to raise awareness in, and capture the interest of installers who might be looking for a money-saving shopping extension.
The destination for much of these third-party marketing channels is a dedicated Capital One Shopping branded microsite. It's not simply a product page or landing page. It's a full site with its own branding and sign-in experience. And when you land on the site, there's a full page takeover with a message focused on driving installs. It's clear, capturing an install is their first priority.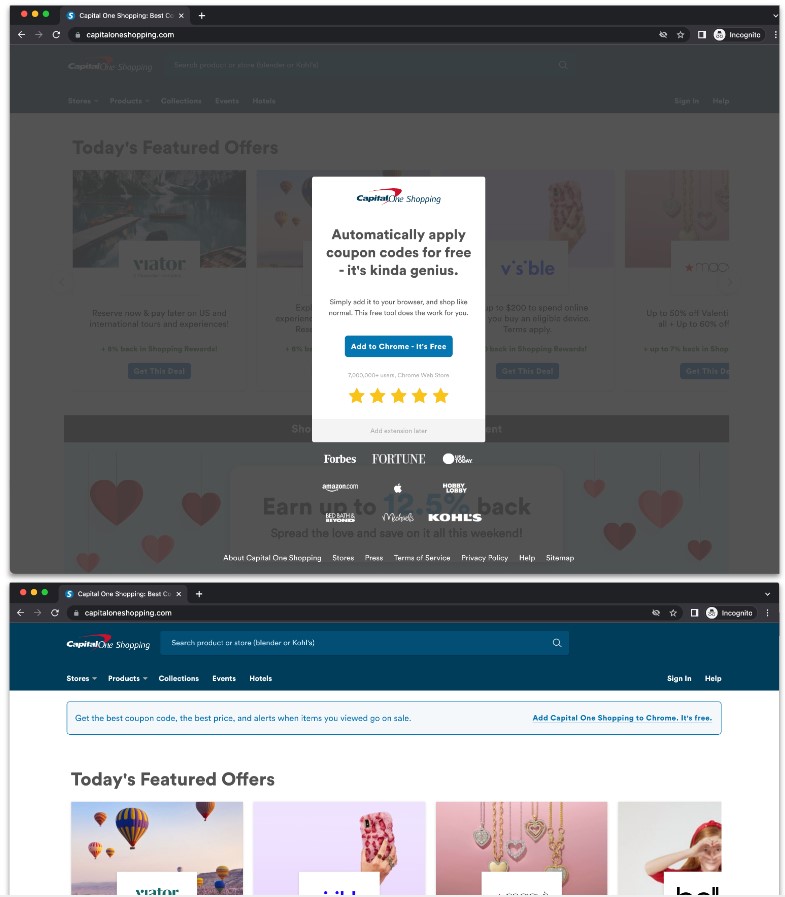 Other third-party marketing efforts Capital One is using include:
Affiliates / paid placements & sponsored content: By incentivizing content creators and paid placements, the Capital One Shopping brand is able to dominate the coupon and rebates digital conversation and presence
Paid search ads: Capital One Shopping is always securing top placements for generic terms. They bid on their own branded terms, they bid on competitor terms. Notably, they also employ landing pages abandonment recovery strategies where a page takeover interrupts a user's journey off the page. In the abandonment recovery messaging, they reiterate their aggressive FOMO messaging.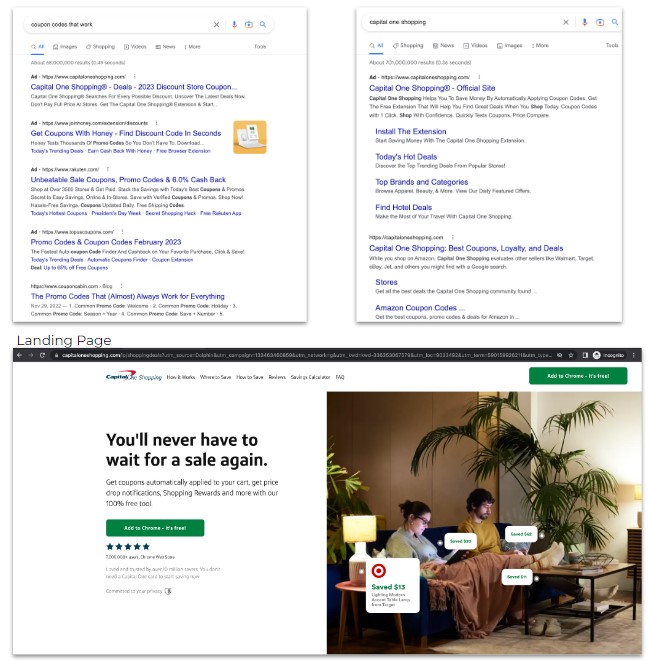 Display ads: Continuing the repetition of their value proposition, messaging in display ads is very direct, simple and focused on the simple messaging strategy of "the work (to save) being done for you." Wherever you might be looking for a deal, Capital One Shopping will be there.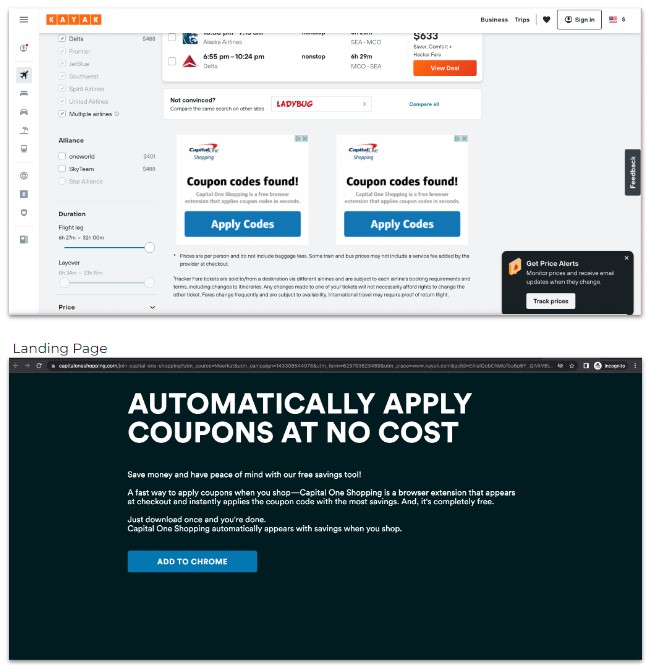 Facebook/Social Ads: Content ads that land on short articles about how the extension will help you in regard to the ad topic.
Takeaways for a Cashback Rewards Program Marketing Strategy
If you've read my blog series on marketing a cashback rewards program, you'll probably agree that Capital One Shopping is a master class in customer acquisition marketing strategy for cashback rewards programs.
The Capital One Shopping team is executing marketing messaging based on the core principles of

knowing the target customer persona

and their challenges

They

repeat a product's value proposition consistently

in all customer touchpoints
They

leverage all available marketing channels aggressively

(owned and paid) to drive maximum customer awareness and installs
As well, having analyzed their marketing over a period of several weeks, I have seen them update messaging in some of their assets - representing a clear commitment to testing and optimization for what works to drive installs.
For brands launching their own cashback rewards programs, they would do well to follow along with at least some of the best practices that Capital One Shopping employs to capture new cashback browser extension users and drive rewards program engagement.