Companies often view loyalty programs as strictly being a customer retention strategy. While they are a powerful way to increase customer lifetime value and strengthen customer relationships, they can also be used as part of a customer acquisition strategy.
1. Use your cashback program to get customers in the door
Use your cashback rewards loyalty program and cashback as a hook to attract new customers to your overall brand. This is an especially effective strategy if your company has other products and services that you can cross-sell to your rewards program participants.
Capital One is an excellent example of using its cashback rewards program, Capital One Shopping, as a customer acquisition tool. While people don't have to be a Capital One bank customer to use Capital One Shopping, the value proposition of saving money via deals and cashback for online shopping is used to encourage people to use Capital One Shopping and get them into the larger Capital One product family.
2. Encourage Referrals
Word of mouth is a powerful marketing tool and draw for new customers. Ninety-two percent of consumers in a Nielsen survey stated that they trusted recommendations made by friends and family members.
To harness the power of word-of-mouth, your program should empower your current customer base to drive referrals to the program and earn rewards for doing so.
By offering existing customers to earn additional loyalty program rewards — e.g. points, miles, or cashback — if they refer new customers to join via their referral link, you give them an attractive, low-effort way to get more value from your program while expanding the number of participants.
For example, our partner Givebacks offers a $5 referral bonus to their existing customers (called Backers) when they successfully refer a new Backer to the program: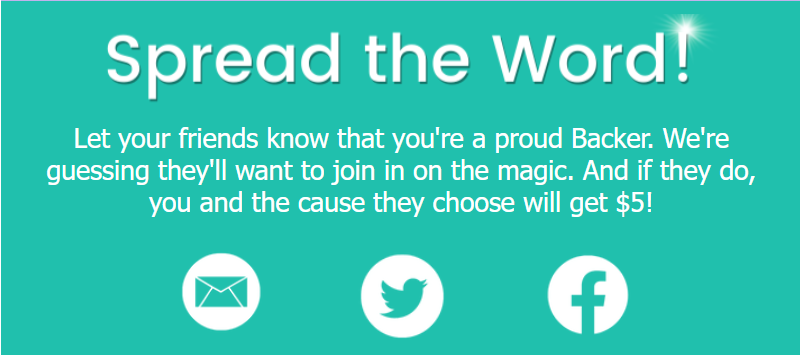 3. Start the Program with Money or Points Already in the Account
Sign-up bonuses are a great way to attract new customers. By offering prospective customers free money or points when they sign up and use your program, you can begin the customer engagement on a positive note.
Bonuses are a popular tactic for companies to offer immediate value to new customers. Due to the incremental nature of customer revenue driven by your cashback rewards program, you may be able to allocate some of that incremental income to a campaign in which you offer a "new customer bonus" of say, $5, available in new customers' accounts after they make their first purchase through your cashback loyalty program.
Loyalty programs need to provide value from the moment someone signs up. If customers have to wait too long to receive incentives, they may decide it's not worth their time.
With an "instant cashback bonus" available as soon as a first purchase (or upon account opening), your customers will see the immediate benefit of participating in your program.
TopCashback (as of this writing) is offering a $10 bonus to new customers.
4. Use Cashback to Fund a Customer Acquisition Budget
As mentioned above, cashback rewards on e-commerce shopping generate more incremental revenue for businesses. These types of programs offer a unique opportunity for a business to reinvest the incremental dollars earned via cashback, to fund more traditional customer acquisition tactics for a company's overall products, such as paid advertising.
In this way, cashback rewards programs driving incremental revenue from customers' online shopping can be a great way to cost-effectively increase your customer acquisition marketing budget.