E-commerce rewards are the latest tool for financial institutions to implement as part of their loyalty programs to acquire and retain customers. Consumers now expect some sort of rewards / loyalty benefits from their financial institutions (FIs). A common use case for FI loyalty programs is offering cash back / rewards on purchases.
Many FIs who offer merchant-funded e-commerce cashback rewards as part of their customer loyalty programs have built consumer access to them by displaying card-linked offers or by creating a gated shopping portal. However, as we've noted, companies report that less than 2% of customers actually use these because of the extra steps involved in activating/redeeming offers.
Additionally, even if customers activate a card-linked offer or click through from an offer portal, they might forget to use a bank or card issuer's tender type at the point of checkout! With Buy Now Pay Later options and PayPal popping up on more and more checkout pages across the internet, the temptation to use a different payment method is always there for the online shopper. This presents an additional challenge to FIs in gaining customer share-of-wallet and improving retention and customer loyalty.
Addressing today's customer's expectations
Today's customer is all about convenience and saving money: people complain about Facebook, but they still use it because that's where all their friends are (convenience). They worry about Amazon's retail dominance, but they still use their Prime membership (convenience) to find the best prices (saving money). They are concerned that Google has too much of their personal data but they love that Maps remembers their navigation history and helps them get home (convenience).
It's clear that today's customers have high expectations for a convenient and streamlined user experience and won't tolerate extra work to earn rewards from their loyalty platform, like that imposed by card-linked offers or gated shopping portals.
Enter browser extensions
There's a better way and it means meeting the customer where they already are to offer that convenience and money-saving incentive while shopping. Browser extensions offer a solution that incentivizes a customer to purchase naturally, acting as a shopping "assistant" as opposed to requiring a lot of additional clicks or actions.
First-movers in this space know it's the optimal way to complement a customer's shopping flow. Witness the massive popularity of the Honey browser extension, which was acquired by PayPal in 2019 with 17 million customers, and Capital One Shopping, another browser extension that started as Wikibuy and was acquired by Capital One in 2014.
The thing is, these browser extensions are "gated." They are proprietary products of those companies - third-parties cannot license the technology. And, for an actual customer to take advantage of the cashback component, they have to have an account.
Sure, anyone can install and use either browser extension to simply find coupons and save. But to get the real double-stacked consumer benefit of coupon savings PLUS cashback on purchases, a customer needs to sign up with them. We might argue that convenience (not having yet another bank account to setup and manage) could trump money-saving desires here.
Loyalty platforms benefit from white-label browser extensions
But a browser extension acting as a money-saving shopping companion, offered directly by a customer's existing bank as part of its loyalty program, solves the issues of both convenience and money-saving. Banks, credit unions, fintechs, and other financial institutions should "think outside the shopping portal" and consider adding a browser extension to complement their existing loyalty programs and go beyond just offering a shopping portal.
With a white-label browser extension as part of their loyalty program, FIs can create more opportunities to be aligned with customers. The browser extension displays eligible merchant coupons and/or the cashback opportunity from the FI's loyalty and rewards program as the customer shops online, and subtly reminds the customer of the FI brand.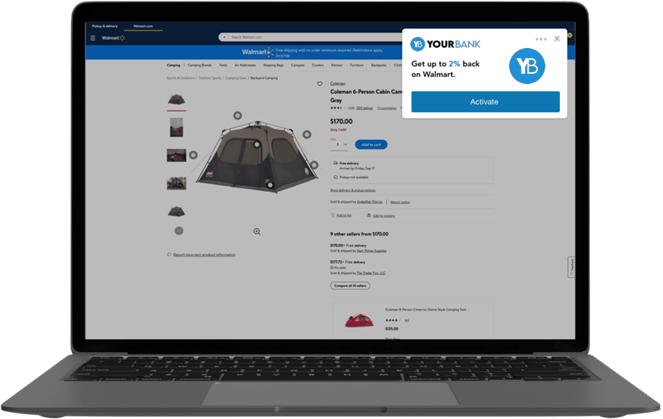 In addition, functionality exists where a financial institution that integrates a white-label browser extension can actually get the upper hand in organic search results. In this case, the extension "injects" a message above a merchant in the search results to alert the shopper of the opportunity to earn cash back from the FI. This happens even before the customer visits a merchant's site. This functionality helps place that financial institution at the top of the customer's mind, not to mention wallet, even before they start filling up their shopping cart.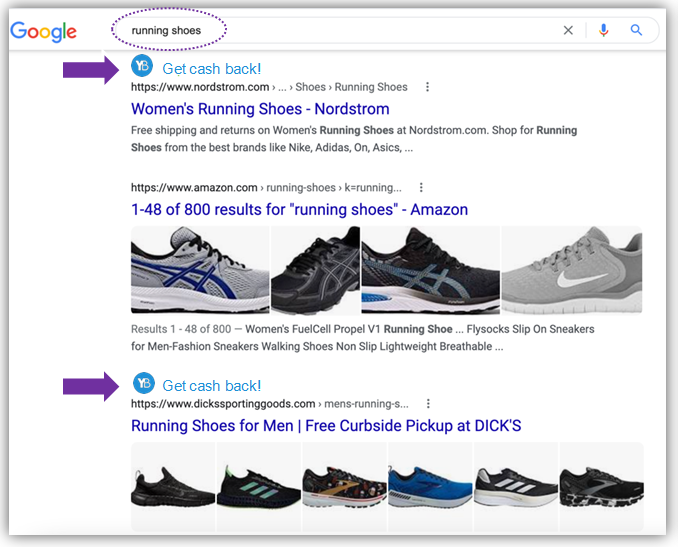 New opportunities for browser extensions in mobile
Until recently, browser extensions were available on desktop. But in September, Apple launched iOS 15, which included an updated version of the mobile Safari browser - now including extensions. This was an exciting development and as of mid-October, about 30% of iPhone users have adopted iOS 15.
Now that extensions are available for millions of iPhone users, FIs can take advantage of mobile browser cashback extensions - creating even more opportunities in their customer loyalty program for branding, customer engagement, and being aligned with their customers during even mobile shopping journeys.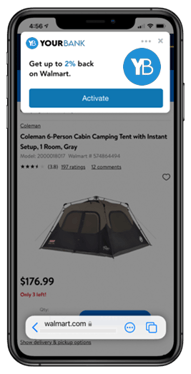 Cashback rewards are just one tool in the loyalty battleground
With new features and competition cropping up every day in the financial world, FIs must compete harder than ever to retain their customers. According to research from UK firm Ello, just 18% of surveyed consumers feel it pays to be loyal to their bank/financial services provider, and at the same time almost a quarter of them admit they wish their bank offered them more perks.
FIs must continue listening to their customers, providing good customer service, personalizing services and offerings, and in general improving the customer experience. Loyalty programs are important, and rewards from banks are even expected by customers. With this in mind, an e-commerce cashback loyalty rewards program must be:
Thoughtful towards customers. Planned with the customer experience as the most important consideration
Convenient. No extra steps to take to benefit from the program
Omni-channel. Available on all the channels and platforms today's customers might utilize
A multi-faceted loyalty program built with these core customer outcomes accounted-for can go a long way towards improving customer retention and bank satisfaction. A well-executed program can help FIs establish a beachhead in the new battleground for acquiring and retaining customers: loyalty and cashback rewards programs.