As you probably know, Black Friday / Cyber Monday is the shopping weekend from Thanksgiving to the Monday after, and is one of the highest-volume shopping "holidays" of the year. Discounts and deals are the core aspects of Black Friday / Cyber Monday (BFCM) holiday shopping.
Because we actively help our shopping rewards program clients who build cashback rewards browser extensions to guide their customers to the biggest discounts and deals, and the richest cashback rewards, I gathered the following information to prepare for the start of the biggest online shopping event of the year and the beginning of the holiday shopping season.
Black Friday - Cyber Monday Weekend Insights
To kick things off, here are a few stats illustrating the power of BFCM:
Black Friday deals are starting earlier and earlier and retailers are now giving sneak peeks to their BFCM sales.
71% of shoppers between 25-34 have saved for 2023 holiday shopping, proving that holiday shoppers are planning early and already thinking about ways they can save during BFCM weekend
There is almost no difference between Black Friday and Cyber Monday deals anymore. Consumers buy as they see a deal on an item they want, or can't resist
Maximizing Marketing During Black Friday - Cyber Monday Marketing
Best Practices for Email Marketing
With 95.2% of ages 25-44 being "active" email users, email is a relevant and potent channel to drive both activation and engagement.
However, shoppers will get overwhelmed with email particularly ON Black Friday and Cyber Monday. Because of this, we recommend:
Engage users via email early… as early as October. Prime them for the BFCM sales. Drive installs of the cashback browser extension, drive activations, drive early usage

Highlight the most attractive cashback offers

, making it apparent that the cashback rewards browser extension will stack the very best deals for BF shoppers (Black Friday deals, plus cashback)
Segment users based on data signals such as browsing data, past purchases, cashback thresholds, engagement level, etc.
Use "Black Friday" and/or "Cyber Monday" in subject lines to increase open rate
Best Practices for Timing BFCM Promotions
As expected, there will be spikes in Nov. sales on Black Friday and Cyber Monday. Shopping also continues over the weekend. Data across all Wildfire clients for November 2022 shows that while sales dip the week prior to BFCM, clicks remain steady. This behavior indicates people are window/cart shopping, but not "yet" purchasing.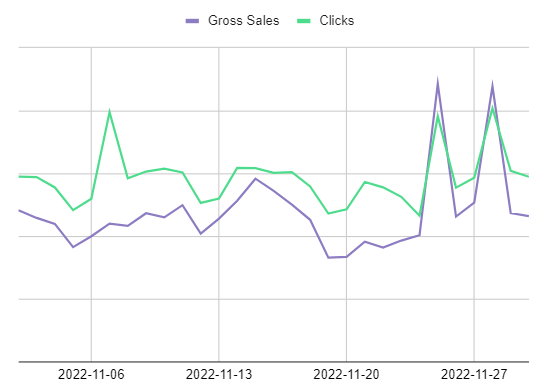 Based on these observations, we recommend:
Use an offer wall or a similar alternative to serve and highlight the very best deals
Message Special / Exclusive offers - exactly what shoppers are looking for. And, they stand-out amongst all the others. Of course, they perform the best. 😉
Use follow-up messaging relating back to messaging they previously converted on or known behaviors

For example, if you run an acquisition campaign with messaging: "Install our extension to get 20% cashback during Black Friday," your new comms should relate, e.g. "It's time to reveal your 20% cashback Black Friday deals"
Best Practices for Relevancy during Black Friday Cyber Monday
Overall, the top categories for Black Friday / Cyber Monday shoppers are consistently toys, electronics, fashion, and home.
At Wildfire last year, the top 3 categories were clothing & apparel, health & beauty, and electronics.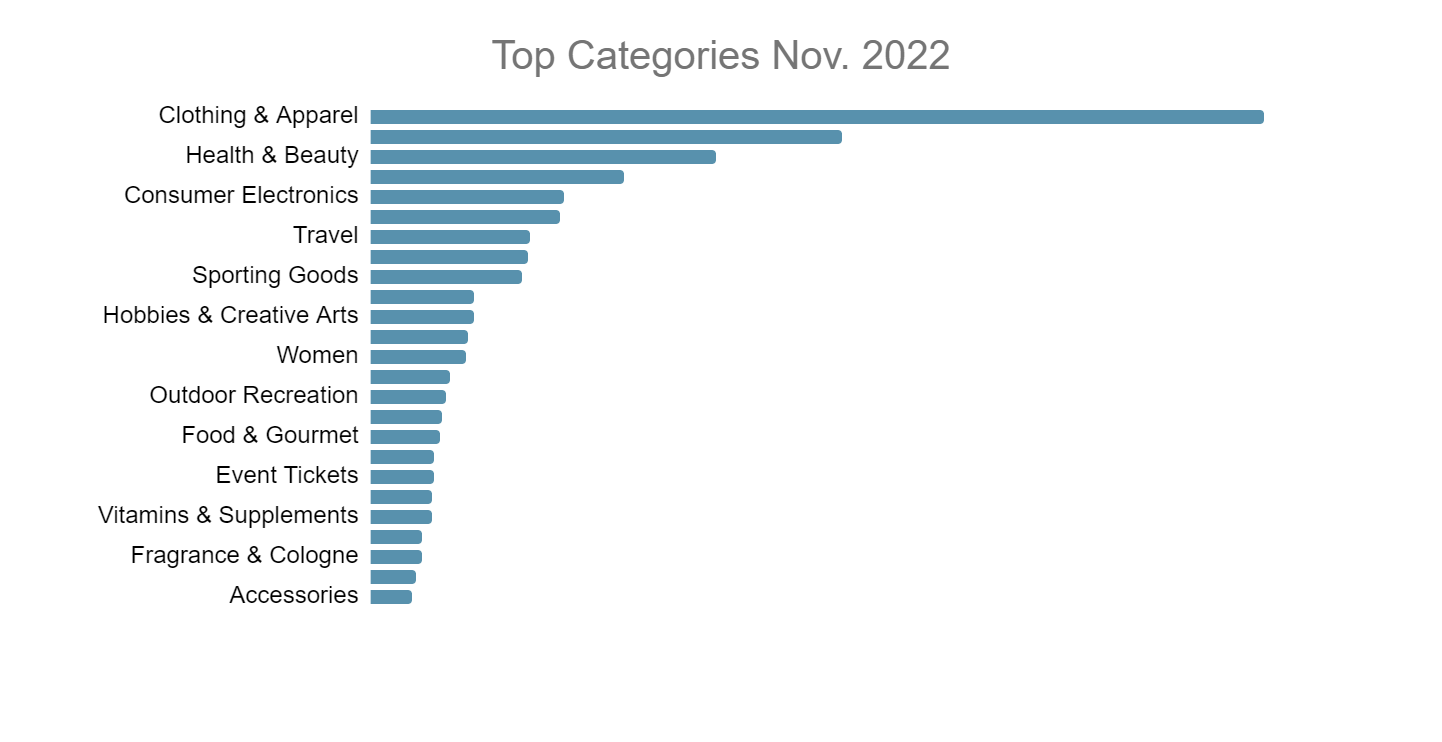 Therefore, rewards program marketers should serve up the most relevant offers to users because they not only want the best deal, they want the best deals for products / categories / merchants they're personally interested in.
Other best practices for BFCM messaging include:
Featuring merchants users are "browsing"
Featuring top categories from BFCM 2022
Targeting messaging and offers based on purchase frequency at specific merchants or categories
Highlighting deals with merchants that carry hot trending products or alternatives to them
Create an offer wall or mini offer page featuring merchant or deal highlights and emails that can be the start of a user shopping journey
As well, during BFCM weekend, 25% of BFCM shoppers believe they'll find better deals online. And even more shoppers are using online tools to find the best deals, with 36% of shoppers using Google to hunt down these deals.
In fact, from September 1 to BFCM 2022, Google searches for "Black Friday" increased by 419%!
Boost offers at top merchants and categories
Create Black Friday and Cyber Monday specific landing pages or offer walls with special offers that serve as an additional marketing touchpoint. Note: because SEO takes awhile for robots to pick up what you're putting down, create these pages early even if the deals aren't live yet.
Drive early browser extension installs
Promote the Search Results feature, highlighting that this is a way to help customers on their hunt for the best deal
Work with influencers to spread the word for your particular target audience
Best Practices for Black Friday Cyber Monday Messaging
The NRF found that Free Shipping and Promotions / Limited Time Sales are the top 2 factors influencing Black Friday Cyber Monday shoppers' purchase decisions. With this in mind, follow these best practices for the messaging in your BFCM marketing:
Use intentional messaging during this time of year by bringing shoppers exactly what they're looking for such as free shipping merchants or limited-time deals (like Boosted Offers). This also means changing the existing winning val prop or creative to align to Black Friday insights.
Use "Black Friday" or "Cyber Monday" as title messaging throughout campaign creative
Promote Buy-Online-Pickup-In-Store (BOPIS)
Use words that speak to the pain relief or gain that the cashback rewards browser extension brings users that complement what retailers are offering. Consider: automatic, instant, done for you, fast, save time, secret deals, bigger, additional discount, you won't want to miss
Black Friday Cyber Monday Marketing Planning
Based on our findings above, here is a recommended timeline to start planning Black Friday Cyber Monday promotions:
| | |
| --- | --- |
| Last week of October | Drive installs |
| November | Continue to drive installs. Drive "activations" with installed user base. Start to use BFCM messaging, preparing your customers |
| Week of BF | Increase email and marketing impression frequency to daily, focusing on usage, delivering offer highlights even to uninstalled users |
Black Friday Cyber Monday Marketing: Key Takeaways
Plan EARLY: Kick off in October, drive users to install. Highlight product features that can help them on their journey to find the very best BFCM deal. Prepare to sweeten the deal with "Boosted Offers" for BFCM, driving exclusive, FOMO inducing shopping.
Kickstart their Shopping: A shopping journey / event can start with an email (or many) as users expect it. They have a profound need to know they're getting the best deal, so capitalize on this concept.
Know What they Want: Top BFCM categories are Toys, Fashion, Electronics and Home. Do you know what your users are looking for this BFCM? Use your data, take the prep time to understand your customer, test shopping categories or merchants, stay on top of trends and use the info to drive usage.
Smart Messaging: While retailers are using language like limited-time, early access, special buy, sale ends, you can also use messaging that helps the user not miss out on these deals.


We hope you're able to implement some of these ideas to maximize sales through your program, and deliver more value for your customers. Wishing you the best for a great Holiday season!
PS - Looking for more advice on marketing cashback programs? Check out our 3-part series on building a marketing plan for your cashback rewards loyalty program.