Here at Wildfire, as we continue our research into the best ways to successfully market browser extensions for cashback rewards and coupons, in this post we analyze the marketing and customer acquisition strategies behind PayPal Honey (just like we did for Capital One Shopping.)
What Is PayPal Honey?
As they explain on their own site, "Honey is a suite of online shopping tools that have been part of the PayPal family for several years - helping customers discover deals and earn rewards while shopping at participating sites."
It's free for anyone, (you don't have to be a PayPal customer to use the extension), and it's available on both desktop and mobile browsers. Features include coupon codes applied at checkout, an Amazon price comparison tool, price history, and a price drop tracker.
They also offer shopping rewards (cashback earned on completed purchases). Cashback is paid out via multiple redemption types, including: cash in your PayPal account, gift cards, and shopping credit (that can be applied when customer check out and pay via PayPal.)
PayPal Honey consistently ranks in the top 5 in the Chrome Web Store for shopping extensions. It has an estimated 17 million total users currently. PayPal acquired Honey in January 2020 and the joinhoney.com website sees around 20 million visits monthly across its mobile and desktop versions, according to SimilarWeb.
By our assessment, PayPal Honey's target market is online shoppers who aim to save as much money as possible on any offering by finding them the most cost effective deals with little effort.
How PayPal Honey's Marketing Feeds Their Customer Acquisition
To reach that level of users, Honey uses consistent, targeted marketing tactics to capture the attention of smart shoppers.
Brand Messaging
All of their messaging centers around the value proposition of a frictionless way to save money on an online shopping journey.
This message is repeated consistently in various ways through all of their marketing collateral: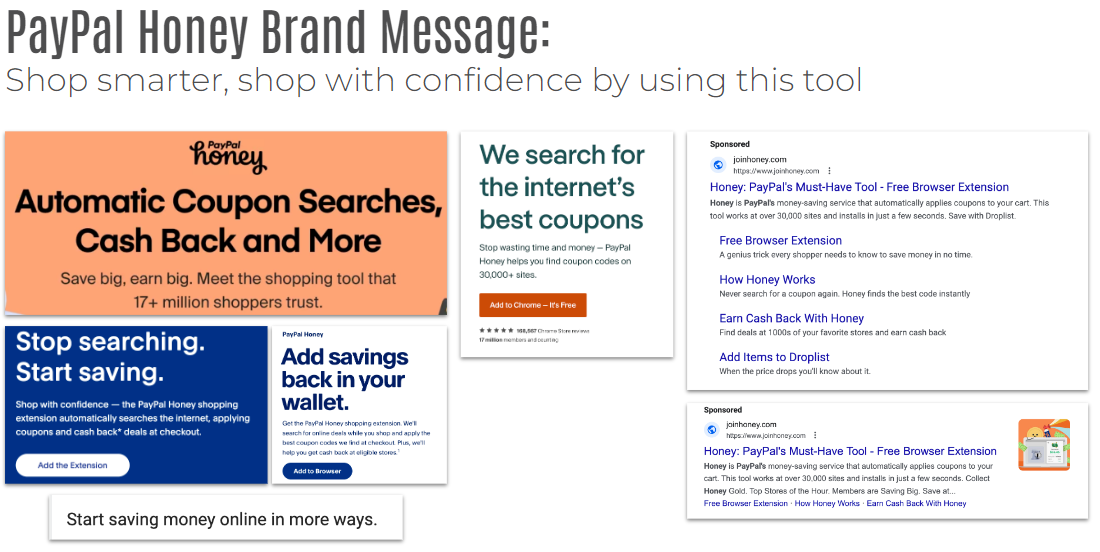 Leveraging Social Proof: The Power of User-Generated Content
One of PayPal Honey's standout marketing tactics is harnessing the power of social proof. The brand has cultivated a strong community of users who actively contribute user-generated content by sharing their money-saving experiences.
By highlighting that user-generated content (such as successful purchase screenshots, testimonials, and personal stories on social media), PayPal Honey establishes credibility and authenticity, creating a sense of trust among potential users.
Engaging Visual Content: Memorable and Shareable
PayPal Honey's marketing team recognizes the potency of visual content in capturing attention and driving engagement. They capitalize on this by creating visually appealing graphics, infographics, and videos that communicate the extension's benefits succinctly.
These assets not only serve as educational tools but are also shareable across various social platforms, amplifying PayPal Honey's reach organically.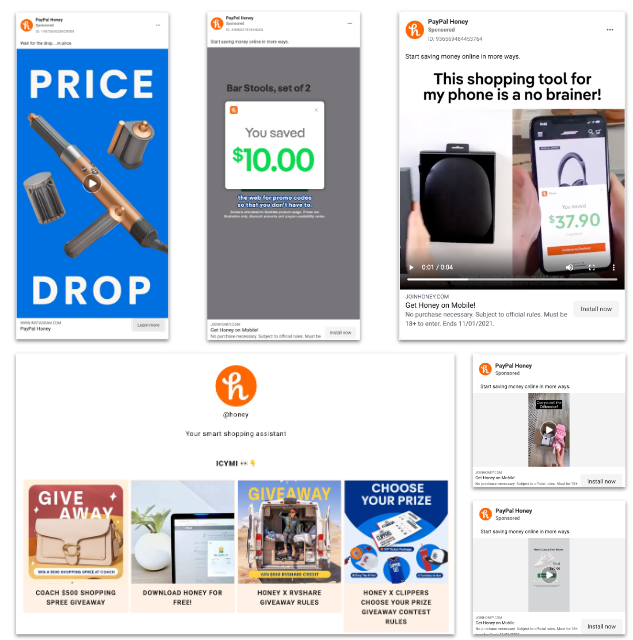 Influencer Collaborations: Bridging the Gap with Authenticity
Partnering with influencers who align with PayPal Honey's mission has been a smart move in their marketing playbook. By collaborating with influencers who genuinely use and appreciate the extension, PayPal Honey is able to leverage their authenticity to tap into new audiences.
Fun fact: in Q3 2022, Honey was one of the top spenders on YouTube influencer marketing, sponsoring 63 videos and working with 56 influencers including Mr. Beast.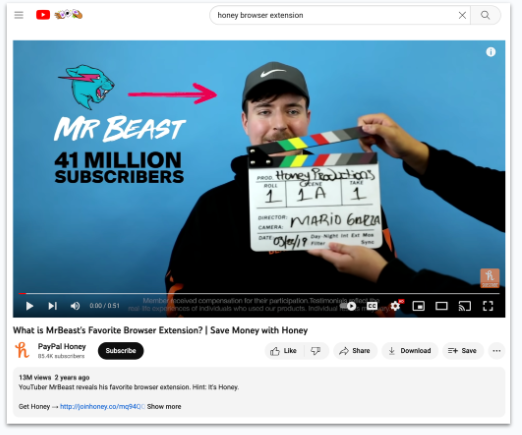 This approach adds a human touch to the brand, making it relatable and resonant in a world saturated with advertisements.
Driving Customer Acquisition from Existing PayPal Users
During high shopping months (in this example, during the 2022 holidays,) the Rewards product was marketed to PayPal customers with the Honey shopping extension as the top tool.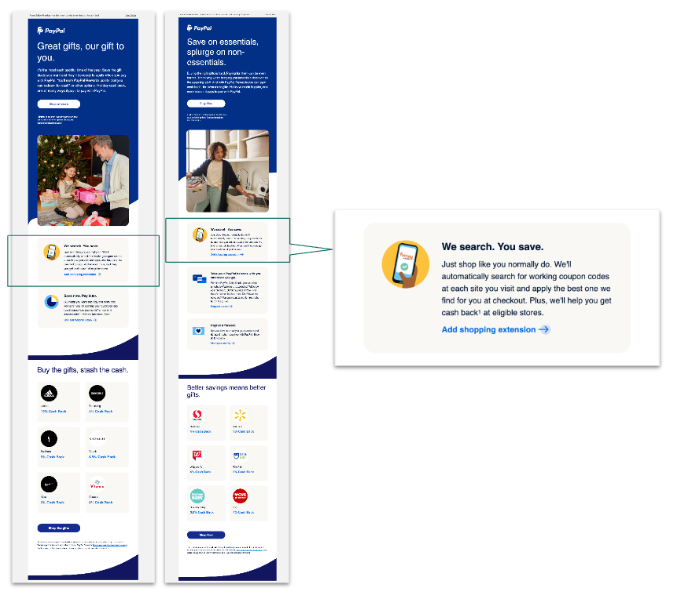 Optimized Chrome Web Store Presence
PayPal Honey has worked hard to optimize its Chrome Web Store listing. As the final step before actually installing the extension, how a visitor perceives this page is critical to whether or not they take that step.
They capitalize on social proof from this page elsewhere in their marketing (such as the homepage, where they mention 168,000 Chrome installs). As well, they are implementing the following best practices on their listing page to increase confidence among visitors:
Video intro at the very top of the Chrome web store

Strong customer review engagement (over 12k reviews)

Video frames show users exactly what to expect, while repeating value messaging

Packed SEO long tail content in both Overview and Images
Similar tactics are at play in their iOS App Store listing, for their mobile Safari extension, where they have included compelling featured images and strong keyword-rich content highlighting customer benefits (e.g. repeating the value proposition.)
Key Takeaways for a Cashback Rewards Program Marketing Strategy
Reflecting tactics noted in our blog series on marketing a cashback rewards program, PayPal Honey demonstrates effective execution of a well-defined customer acquisition marketing strategy for their coupon & cashback rewards programs.
The PayPal Honey team delivers strong marketing messages based on the core principles of knowing the target customer persona and their challenges
They repeat a product's value proposition consistently in all customer touchpoints
They leverage key marketing tactics (video and social proof) aggressively to drive maximum customer awareness and installs
They have maximized their Chrome Web Store listing and other extension install pages to ensure continued customer confidence to result in an install
Brands launching their own cashback rewards programs should test at least some of the best practices that PayPal Honey employs so they can capture new cashback browser extension users and drive their own cashback or shopping rewards program engagement.