Online shopping: people either love it or hate it. What can really make shoppers hate it is when they fill up their shopping cart, then spend 15 minutes hunting around for deals or coupons, visiting a bunch of different coupon code sites that end up having codes that are outdated or simply don't work.
People love discounts. After free shipping, coupons and discounts were cited as the second-most-important reason why people bought specific products online in a recent survey.
And cashback on purchases has become a customer expectation - with cashback offers being touted by credit card issuers, buy-now-pay-later companies, and financial services companies alike.
But delivering those offers when it's most relevant for the customer, and without making them remember to use a specific card, or "activate" an offer first, or do anything else extra to access the offer is key.
As the saying goes, there's the rub.
Enter The Next Generation of Shopping Companions
This is where the power of a real-time online shopping companion comes into play. Simply by installing a browser extension, shoppers are empowered with alerts for both cashback opportunities from merchants, as well as coupon codes, that appear at just the right time.
So what's the right time, exactly? In essence, the "right time" is during an actual online shopping experience. Shopping companion browser extensions live passively on Chrome or iOS Safari, and deliver cashback alerts to the shopper in the moment, as they are visiting e-commerce sites.
These extensions meet the user where they are, effectively getting out of the way and assisting the shopper while they shop online like they normally do.
Deliver Coupon Codes When It Matters Most
Many browser extensions, such as those powered by Wildfire's white-label cashback rewards platform, can also deliver coupon codes to the shopper when it's most convenient and relevant: when they visit the checkout page.
Delivered at this point, there's no detour for the shopper, no hunting around in a separate tab looking for working coupon codes.
This is important for the retailer too, because helping a shopper with working coupon codes at the point of checkout, keeps a prospective buyer in the checkout process (thus, decreasing cart abandonment.)
Maximize Cashback Opportunities for Shoppers
In addition, in today's inflationary environment, rising prices mean customer dollars don't go as far as they used to. People are on the lookout for ways to maximize their savings.
This means modern shopping companions must not only deliver coupon codes at the exact moment customers might need one, but also surface additional cashback opportunities from related e-commerce sites in the moment too.
Not all online merchants participate in affiliate programs which power cashback programs for consumers. But if a similar product assortment is available from a related merchant, and the customer has the chance to earn 1.5% cashback from that merchant vs. their original choice, the shopping companion can show the earning opportunity available at the alternate merchant.
The shopping companion again delivers the alert at the right time - as the customer is already shopping / in market for a type of product - and empowers the customer with a choice of where to shop based on how they'd like to maximize their earnings.
Influence the Sale Before the Shopper Chooses Their Store
On the topic of of empowering the shopper by helping them maximize their cashback earnings, some shopping companions can even display a marker on the search results page to illustrate the cashback available at participating stores.
In this scenario, a potential buyer might be in the market for a new pair of sneakers, but is unsure where she might want to buy them. So she types "womens casual sneakers" into a Google search.
On the search results page, a small search results decoration shows this shopper at-a-glance the stores where she can enjoy cashback rewards on her sneaker purchase - before she's even selected the e-commerce site to shop from.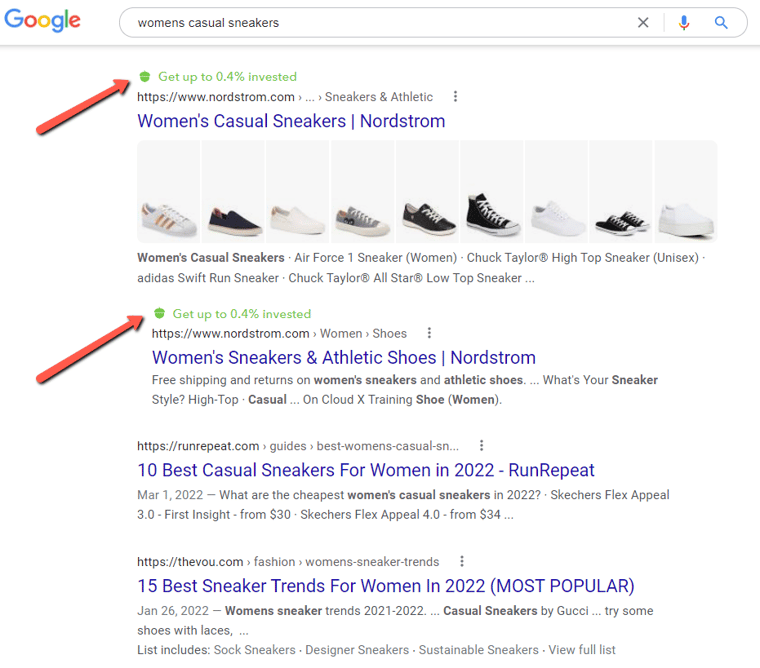 This feature not only helps budget-conscious shoppers who want to earn as much cashback as possible.
It also helps merchants, who benefit from increased exposure via inclusion in the consideration set for people who start their e-commerce shopping journey from a Google search.
Shopping Companions Make Shopping Better
Shopping companions can help improve online shopping with timely, relevant alerts that improve the overall shopping experience. An all-in-one browser extension that accomplishes the delivery of cashback alerts, coupons, and a wider array of merchants offering cashback to shoppers is a net positive gain to shoppers.
It might even give an e-commerce hater one reason to start liking the process of buying goods online.