There's no doubt about it: cashback rewards are hot, and getting hotter in 2023. Even though inflation is showing signs of decreasing, prices may stay high for a while, so consumers want to save wherever they can, and get as much value for their money as possible.
As a result, cashback rewards for shopping have entered the mainstream as a money-saving tactic. Did you know that 61% of consumers report they "always" or "often" look for cashback rewards and coupons when they're shopping online?
Given their burgeoning popularity, cashback rewards programs can also be a critical differentiator for your product in a crowded market. And they can help you improve how you monetize your own product, app, or site.
So how do you tap into the demand for cashback shopping rewards and create competitive differentiation for your product?
If you've been looking into how to launch a cashback rewards program, you've probably discovered that one of the easiest ways to deploy a rewards program is through a cashback browser extension.
Why Building Cashback Browser Extensions Can Be Challenging
We know how hard it can be to build a browser extension, having created many for our clients. One crucial piece of a successful cashback rewards browser extension is having a deep merchant network, so that customers using your browser extension for cashback while shopping can see available rewards almost anywhere they shop online.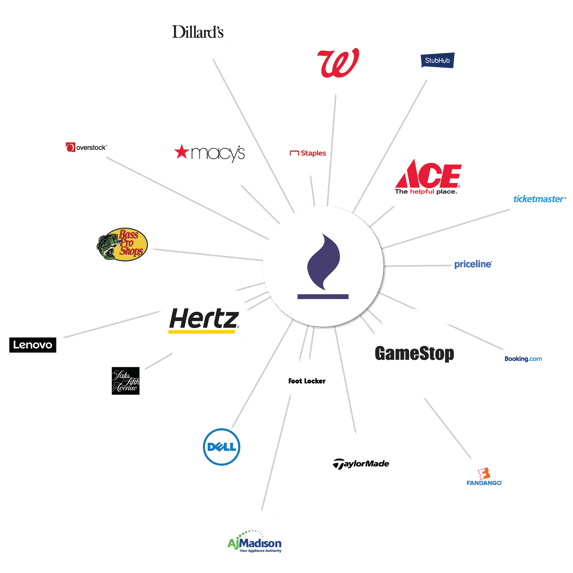 Typically, the affiliate networks such as CJ, Impact, and ShareASale power cashback browser extensions, since cashback programs rely on the infrastructure behind affiliate marketing programs to track sales and award merchant affiliate commissions to referring sites.
Cashback rewards programs take those affiliate marketing commissions and offer some, or all, of them as cashback to the consumer who made the purchase.
Because of the need to work with the affiliate marketing networks to power cashback rewards, there's an additional layer of complexity: understanding affiliate network rules and keeping compliant with them.
This important nuance is massively important in maintaining a productive merchant network where your users can maximize their cashback earnings at as many sites as possible.
Enter: Wildfire's Browser Extension Launchpad
Initially, Wildfire offered 2 solutions to clients interested in launching their own desktop cashback browser extension:
a fully-functional, turnkey cashback extension with the client's branding

access to Wildfire's raw merchant and cashback offer datafeeds and transactions through our commission API
However, we discovered from clients that our cashback browser extension products offered too little customization at the one extreme (turnkey extensions), and too much coding / development knowledge needed at the other (datafeeds).
And not to mention, the option to access to our raw datafeeds also requires the client to not only build their entire browser extension from scratch, but also to understand and stay compliant with complex affiliate network rules... which is a whole other difficult undertaking.
So we came up with the Browser Extension Launchpad. This product is a middle-ground offering for clients who want to create their own desktop cashback browser extension, but who desire more control over the user interface and the included cashback rewards functions than our turnkey extensions. Plus, it requires much less coding and development know-how than working with our raw datafeeds/APIs.
Importantly, it also addresses one of the key challenges our clients experience when trying to build their own cashback browser extension: keeping compliant with affiliate marketing rules.
In essence, with Launchpad, we are offering a "boost" to clients developing their own extension by providing a cashback browser extension codebase that already has our massive merchant network, key cashback functionality, and affiliate network compliance built in.
Benefits to You (and your customers!)
The cool thing about our new Extension Launchpad offering is that you can use it as a nearly-fully-baked starting point for your own cashback browser extension. We've optimized the features based on our years of experience working with cashback extensions for our clients.
Working with our Browser Extension Launchpad can deliver you some key benefits in getting a cashback rewards program up and running, including:
Revenue

: monetize your existing Chrome extension with customer-centric features like cashback and coupons that drive conversion and increase affiliate revenue for your product. Or, build a new extension with custom features you want and proven cashback technology / functionality at its core.
Speed: quickly add cashback rewards and other money-saving features from tens of thousands of merchants for your customer base, all without having to develop custom code from scratch or building an interface from a datafeed or API.
Simplicity: enter the cashback rewards space without having to do any of the heavy lifting around knowing affiliate program rules, network compliance, UI considerations like cashback or coupon alert timing, etc.
Customization: offer your customers the specific cashback rewards features and functionality you want, using a template that's mostly built already.