What are cashback rewards programs and why do they matter?
Loyalty and rewards programs offered by all types of businesses have become extremely popular. HBR reports that more than 60% of all companies have some sort of rewards program, and furthermore, that 90% of leisure/hospitality companies have one.
For businesses, the goals of loyalty programs are to increase the value proposition of a business to its existing customers and to lessen the chance that customers will "defect" to another company.
There's a well-known adage in business that it costs far less to retain an existing customer than it does to acquire a new one, so it makes sense for businesses to invest in loyalty programs.
And the increasing popularity of rewards programs as a differentiator for customer loyalty is evident in the spate of financial services "Super Apps" which feature centralized consumer financial hubs and include shopping rewards cashback features.
Consumers, too, love participating in loyalty programs. Statista reports that in 2021, U.S. consumers belonged to, on average, 16.7 loyalty programs.
Businesses reward consumers for loyalty in a variety of ways:
Offering them exclusive discounts
Giving them exclusive sneak-previews of products or services
Rewarding them with "points" or other company currency for purchases or actions
Returning them cashback on their purchases
And nowadays, consumers simply expect rewards from businesses. They've become table stakes for today's savvy consumer.
What type of loyalty reward is best?
Of the reward types listed above, cashback rewards are one of the most appealing for consumers. Inflation is on the rise, so customers are always on the lookout for ways to maximize their budget since their money doesn't go as far as it used to.
Cashback rewards programs are easy for the customer to understand. There's no confusing rubric for how spend translates into points earned, or for how those points become more merchandise or some sort of other coupon/credit certificate.
Customers using rewards and loyalty programs want benefits which are simple to find and redeem.
Indeed, Merkle's 2021 Loyalty Barometer Report showed that when it comes to rewards, "utility" is considered the most important factor.
And what's more of a utility, and simpler to redeem, than cash rewards which customers can spend basically anywhere?
Furthermore, in 2022 we conducted a survey to assess sentiment towards rewards programs, and we actually found that 78% of consumers most preferred cashback as their reward, far more than other currencies like points or miles.
Businesses - especially those in the financial vertical, who are close to facilitating payments & transactions for customers, such as banks, credit card companies, or fintechs - can take advantage of the explosive growth in popularity of the hottest sector in cashback rewards right now: e-commerce cashback rewards programs.
For financial services companies, cashback rewards can also serve as a powerful driver for customer acquisition, loyalty, and positive brand associations. From that same consumer survey regarding rewards programs, we learned that 80% of consumers consider cashback rewards an important feature when choosing a new bank or investment account - and in fact, most consumers want their banks to offer a cashback rewards program.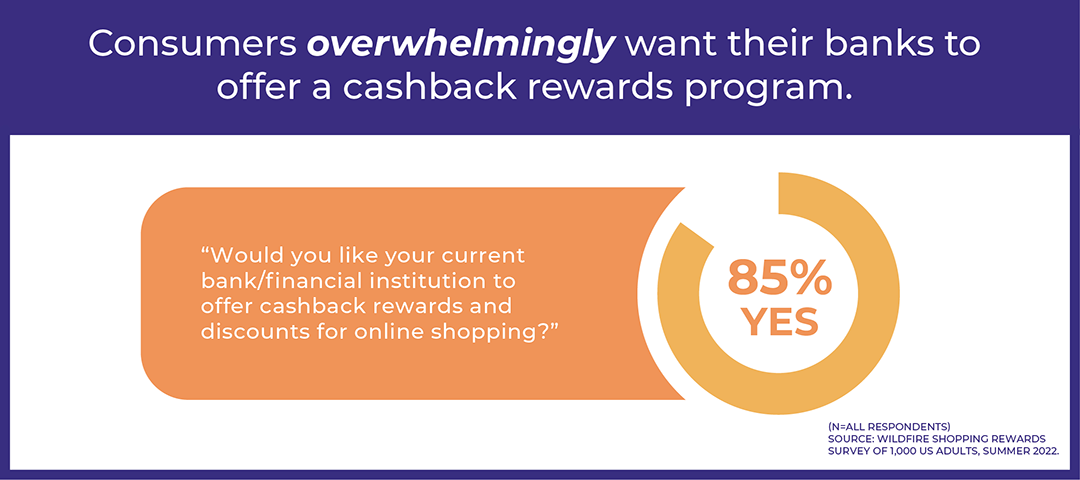 How do e-commerce cashback rewards work?
E-commerce cashback rewards programs are funded by online retailers, who are using a digital marketing tactic known as affiliate marketing.
Here's how: in the affiliate marketing model, these retailers (also known as merchants) pay referring sites (also known as publishers) a small commission on any sales that result from traffic referred by that site.
These are some examples of the types of publisher sites that might host ads or links for a retailer on their site:
Topic-specific content sites and blogs: sites or blogs with reviews or content about specific topics - say, infant car seat reviews or a site which shares vegan dessert recipes
Deal finding or coupon sites: sites where members share coupon codes with each other, or the editors showcase the best deals they've found at retail websites
Social media influencers: people who maintain popular profiles on social media sites like YouTube, Instagram, or TikTok, and focus on a particular topic niche like makeup, lacrosse equipment, or literally anything in between!
The affiliate marketing industry is facilitated by affiliate networks who provide the necessary infrastructure for tracking and attributing the clicks from publishers, to a merchant's site, so that the merchant can pay the publisher their commission for referred sales.
In effect, the affiliate networks act as a two-way marketplace between merchants and publishers, where they can each find one another to form mutually beneficial business relationships.
An organic brand that produces and sells a line of canned coconut milk online, for example, would likely want to form an affiliate marketing relationship with a vegan dessert website since the content about vegan desserts is highly relevant to their coconut milk product.
Some of the major affiliate marketing networks include:
Using the existing infrastructure from the affiliate networks, cashback rewards platforms now act as publishers that can showcase retailers' links and merchandise to online shoppers.
As the referrer of visitors to the retailers, the cashback platforms earn commissions (aka "rev share") on any resulting sales.
But unlike traditional affiliate publishers who keep the commission from retailers as income for themselves, the cashback platforms take some or all of the affiliate commissions paid by the retailer, and reward that back to customers in their consumer-facing cashback rewards programs.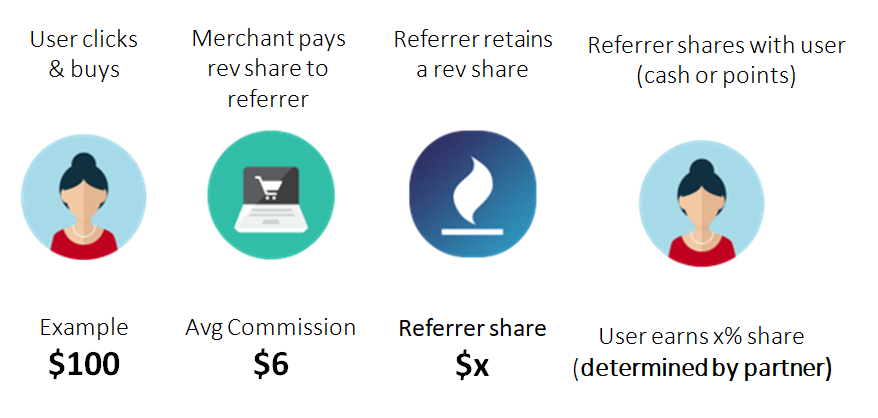 E-commerce cashback rewards programs have picked up a ton of steam in the past few years, especially as proprietary affiliate cashback platforms such as Honey by PayPal, Capital One Shopping, and Rakuten are increasingly adopted by consumers.
The history of e-commerce cashback rewards programs
The idea of using e-commerce commissions to fund cashback rewards programs for consumers was started back in the late 1990s by a company called Ebates.
Ebates becomes the Rakuten Rewards Cashback Platform
Ebates launched in 1999 with a cashback rewards program offering cash rebates from 40 websites. Over time, the company grew, eventually adding thousands of websites to their cashback rewards program. Ebates also made several acquisitions in the performance marketing space, ranging from shopping comparison sites to coupon directories. In 2014, the Japanese internet services giant Rakuten acquired Ebates for $1 Billion.
In 2019 Rakuten retired the Ebates brand, with the cashback platform and corresponding services remaining the same but the name changing to Rakuten Rewards. Now known simply as Rakuten, this cashback rewards program offers customers cashback on e-commerce purchases via the Rakuten site, their browser extension, or their mobile apps.
Honey by PayPal
Honey was founded in 2012 in Los Angeles. It was originally designed as a shopping assistant that would help consumers find the best available coupon code automatically, without interrupting their shopping flow by leaving a shopping cart and searching on sites like Retail Me Not to find a working code.
Honey launched as a browser extension that shoppers could use as they were shopping online, to surface and automatically apply coupons to shopping carts. Over time, Honey added partnerships with retailers to offer cashback on purchases from select merchants. In 2019, Honey was acquired by PayPal for $4 billion; the transaction closed in early 2020.
The Honey cashback rewards program reportedly has over 17 million customers.
Wikibuy, then Capital One Shopping for Cashback Rewards
Almost in parallel with Honey's development, Wikibuy was another shopping assistant and cashback rewards platform that grew in the 2010's and was originally built to help online shoppers find the best prices and coupons.
Founded in 2014 in Austin, TX, Wikibuy was described by its founder as "the Waze of online shopping." It used data from users to inform where other users might find the best price for a given product. In 2018, Wikibuy was acquired by Capital One, which used the Wikibuy platform to launch Capital One Shopping. Capital One Shopping is now a full-featured shopping assistant aiding shoppers with coupon codes and also offering cashback rewards for online shopping.
All of these companies exist as proprietary cashback platforms which offer a cashback rewards program running on the "plumbing" that's in place through the affiliate networks. Members of these cashback programs can earn cashback rewards for purchases made after clicking on notifications in the companies' browser extensions, sites, or apps.
In this way, the Rakuten, Honey, and Capital One Shopping cashback platforms are effectively massive publishers participating in online retailers' affiliate programs, taking the commissions they earn from their users' online purchases, but keeping some for themselves, and offering the remainder back to users in the form of cashback rewards.
Other stand-alone cashback platforms and sites include BeFrugal, TopCashback, Fetch Rewards, and many more.
The Next Step in Cashback: White-Label Rewards Platforms
As the popularity of the proprietary cashback platforms has grown, so too has the demand for cashback and loyalty rewards programs for other businesses. However, the above-mentioned cashback platforms do not offer any way to extend their functionality to third parties.
But now technology has evolved such that companies such as Wildfire can provide a white-label cashback rewards platform by partnering with any business who wishes to provide a rewards program to their end users.
Cashback Rewards Glossary: Key Terms to Know
Advertiser

A brand or company that spends money to increase awareness, capture traffic to a website, or drive consumers to take an action such as purchasing an item. See also: Merchant, Retailer

Affiliate marketing

A type of marketing in which Advertisers allow relevant web sites, blogs, platforms, and so on (collectively known as Publishers), to promote offers from the Advertiser in exchange for a commission on any sales generated from Publishers. Affiliate marketing programs are typically handled through the use of an affiliate network to post and track offers and results between Advertisers and Publishers.

Affiliate network

A network specifically dedicated to acting both as a marketplace between Advertisers and Publishers, as well as a facilitator of tracking & reporting for the affiliate marketing relationships.

Affiliate networks allow the Advertiser to find relevant Publishers to promote and post the Advertiser's offers. They also Advertisers to post offers and content for Publishers to promote.

The affiliate networks have robust tracking and reporting capabilities, and can track each Publishers' results for each Advertisers' offers, including impressions, clicks, and successful orders generated by the Publisher.

Examples of affiliate networks include CJ.com, Impact.com, and ShareaSale, among many others.

The tracking infrastructure of the affiliate networks enable cashback and loyalty platforms to offer customers e-commerce rewards.

Remember, developers of cashback rewards programs powered by affiliate networks must always keep the rules around affiliate network compliance in mind.

ARPU

An acronym which stands for Average Revenue Per User for a given period of time. It can refer to the performance of a site, app, or feature and is typically used to report on how well a property has been monetized.




ARPU is calculated by dividing the total revenue for a period of time by the total number of users for that same period of time.

Attribution

Typically referred to as "marketing attribution," it's the process by which an action by a visitor or shopper (such as an e-commerce purchase), can be traced-back to the sites or marketing channels which contributed to that action. Essentially, attribution tracks the source of completed orders or other actions, back to marketing efforts.

For example, attribution is used to describe how an e-commerce order may have been influenced by the different marketing messages that the Advertiser employed. "The customer clicked on our promotional email, and made a purchase on our site, therefore the sale can be attributed to the promotional email."

BaaS

An acronym for "Banking-as-a-Service," BaaS refers to the ability for the new generation of digital-first banks to simply license access to bank-related technologies and use APIs and other back-end connections to increase the number of financial management features and functions they make available to their customers.

We explain more of what BaaS is, in this Forbes column.

Browser extensions

Tools which enhance the functionality and the user experience on certain websites by making additional tools and features available to the customer without their leaving the original website they are on.

For example, the "Awesome Screenshot" Chrome browser extension is a tool which allows users to capture screenshots, crop them, annotate them, and more - all within the Chrome browser without having to launch a separate app, open a separate program, or visit another web site to take the screenshot.

Card linked offers / CLO

Offers of cash back or other rewards available to an end user by activating an offer from a given retailer, within the user's online credit or debit card account. To earn a reward the user visits their bank's app or shopping portal to find a relevant offer, then they visit that merchant to make a purchase using the enrolled card before the offer expires.

Cashback rewards

Effectively a "rebate" or a bonus paid back to a customer on a purchase. Cashback can be paid to the customer in one of two ways:

1) by the credit card company, using a percentage of the interchange fee the retailer pays to the credit card company

2) by a cashback rewards platform such as Honey or Rakuten Rewards, which capture the retailer commissions their customers generate by clicking through and making e-commerce purchases, and then paying back those customers some or all of the retailer's revshare.

Commissions

In an affiliate marketing program, commissions are a payout, usually a percentage of a successful e-commerce sale or a flat fee, that Publishers earn for promoting an Advertiser's offers.

Conversions

In e-commerce, the successful completions of a specific desired action by a site visitor, typically website orders or purchases. Conversions can also refer to other actions, such as signing up to receive an Advertiser's email newsletter, or installing the Advertiser's mobile app.

CPA

An acronym which stands for "Cost per Acquisition" or "Cost per Action." This is a pricing model which illustrates the effectiveness of a marketing program to drive conversions or actions. It is calculated by dividing the number of conversions by the total cost of the marketing spend.

Excluded categories

In an affiliate marketing program or cashback rewards platform, categories are the classification of the merchandise an Advertiser sells. There are dozens of merchandise and store classifications ranging from Agriculture to Wine and everything in between.

Excluded categories refer to the classifications of the merchandise sold by an Advertiser, which companies do not wish to be associated with.

For example, a bank who is launching a white-label cashback rewards browser extension may wish to exclude Advertisers which sell tobacco-related products. Tobacco Advertisers in this case would be an Excluded Category.

KPI / Key Performance Indicator

KPIs are the business metrics chosen to represent the progress of a company towards its goals, whether financial/sales related, user related, or other types of goals.

For example, the total number of monthly visitors to a site is a KPI. The average conversion rate for an e-commerce site is a KPI. And so on...

Interchange fee

The transaction fee, typically expressed as a percentage of the purchase being made, that credit card issuers charge to Merchants, for the privilege of having access to the card issuers' payment network to be able to accept payments with that card type.

For example, MasterCard and Visa earn interchange fees from all merchants who accept MasterCard and Visa as payment tenders.

MAU

An acronym which stands for Monthly Active Users. It can refer to any online product such as a web site or app. MAU is a key performance indicator, typically used to express user satisfaction with an online destination or app because it represents the number of unique users for that product who visit it at least once per month.

MAU is frequently used by social networking sites or online games/apps.

Merchant

See Advertiser

Merchant funded offers

In an e-commerce cashback program, this refers to the way that the cashback offers are funded. Because the Advertiser (aka Merchant) pays the Publishers commissions for referred orders, the cashback platform will take those commissions and award part of it back to the end-user customers who made the orders.

In this way, the Merchant (aka Advertiser) is the entity that funds the cashback offers for the customers.

Monetize

The ability by which a business earns revenue from its user base. For example, the author of a free email newsletter might earn money from placing ads in the newsletter content. Therefore, the newsletter has now been "monetized."

Mobile Safari extensions / iOS Safari extensions

In June 2021, Apple announced a major update to iOS which added extension functionality to the Safari mobile browser for iOS. Now, just like Chrome and Firefox, Safari users can benefit from the additional functionality and features that extensions can add to an end-user's browsing experience. See also browser extension.

Offer Wall

See Shopping site

Publisher

In an affiliate marketing program, a Publisher is any entity (such as a web site, blog, social media profile, YouTube channel, etc.) that provides content and information on a particular topic or niche.

Through the affiliate networks, Advertisers can partner with relevant Publishers by allowing Publishers to place links & other content on their site or app, which expands how many potential customers may see an Advertiser's offers.

Referrals

In the context of affiliate marketing or cashback rewards programs, Referrals come from a separate type of marketing program in which a businesses' existing customers are incentivized to recruit new customers to the business.

In a Referral Marketing program, existing customers typically earn a small fee or other reward for successfully recruiting new customers to the business.

The difference being that affiliate marketing relies on third-party Publishers who may or may not already be a customer of a business, to drive new customers to a business.

Retailer

See Advertiser

Rewards Portal

See Shopping site

Rev Share

See Commissions - the portion of an e-commerce sale that the online retailer pays to the publisher for having referred them a customer who made a purchase.

SaaS

An acronym for "Software-as-a-Service." This means that the software is centrally hosted somewhere, and customers of the software pay a recurring fee to access the service on-demand via a website or app. Read more about SaaS here.

Shopping site

A centralized location where users can see an assortment of the cashback offers available in an e-commerce cashback rewards program.

A shopping site may be organized for users by merchant categories, by cashback amount paid, or according to relevancy to a users' past purchases.

A shopping site can also be called: offer wall, shopping directory, or rewards portal.

Tender

The dictionary definition of tender is: "a form of money that is to be recognized as satisfactory payment for any monetary debt."

In e-commerce terms, tender is the method of payment used for an e-commerce transaction. Currently, many forms of tender for e-commerce are accepted for payment, including credit cards, debit cards, gift cards, PayPal, buy-now-pay-later, and digital wallets.

Tracking

The means by which actions on a web site, including items such as site visits, movement through the different pages of a site, purchases, or products added to a cart, are captured and reported on for business owners.

Typically, an analytics system such as Google Analytics or a business' e-commerce platform can provide these insights. The tracking methodology varies from platform to platform and none are exactly the same.
What are the benefits of cashback rewards programs?
Cashback rewards programs can offer benefits to all of the parties involved in the cashback ecosystem.
The most obvious benefit is to the consumer themselves.
Cashback Rewards Benefits for Consumers
In this time of rising prices, cashback rewards on purchases offer a chance for the consumer to offset increased costs. Earning money back for e-commerce purchases in a cashback rewards program is like getting a little bit of a rebate on every online shopping trip. In fact, 90% of consumers reported that current inflation is causing them to seek cashback rewards and discounts when they shop online.
Even if it's only 1 to 3%, it's still enough to make a person feel like they are not paying quite as much. And those small percentages may seem small in and of themselves… but cashback rewards can really add up over time.
According to data from Statista, almost 20% of surveyed consumers spend at least $250/month online. Over the course of a year, this totals to $3,000 a year shopping online - so if a customer earns an average of 3% cashback from a cashback rewards program, that's almost $100 - and who doesn't like getting free money?
In addition to helping consumers save money, cashback rewards programs which offer a shopping companion in the form of a browser extension, can help consumers save time too.
These browser extensions can notify customers in real-time, of cashback reward opportunities at stores while they shop online, as well as find and automatically apply the best coupons at those retailers when they're checking out.
No more leaving the cart mid-purchase and hunting around for coupon codes that may or may not be applied, when someone is using a shopping companion to do this work automatically for them!
In essence, cashback rewards meet four criteria for making consumers happy:
they are

Relevant

they are

Effortless

they

Meet the Customer Where They Are

they are

Rewarding
Companies should also consider the types of loyalty rewards currencies (e.g. how customers are actually "rewarded." In another blog post, we cover the 6 different types of rewards currencies that customers care about.
Cashback Rewards Benefits for Brands with Loyalty Programs
A cashback rewards program also offers benefits to the company that is actually offering the program to its customers (we'll call it "sponsoring" the cashback program.)
Whether it's a bank, a search engine, telecom company, even an insurance company - rewards programs are being launched by all sorts of companies.
Cashback rewards programs, especially those which leverage tools such as a browser extension shopping companion, help to build repeat exposure for a brand.
The customer using the shopping companion can see the sponsoring brand every time they shop online, and be reminded that that brand is the one bringing them useful alerts for cashback opportunities and coupon savings. This engenders loyalty to the brand and drives customer engagement.
E-commerce rewards programs in particular can have a significant financial benefit to the sponsoring brand as well. With a white-label cashback rewards program, the sponsoring brand will actually keep some part of the commissions earned from their users' online shopping.
Over time, as the customer base participating in the sponsoring brand's program grows, these commissions can produce a sizable incremental revenue stream. In fact, for banks/financial institutions, cashback rewards programs can deliver results that actually improve a bank's unit economics.
Benefits for Merchants: Exposure in Cashback Rewards Programs, and Increased Conversion Rates
Finally, the online merchants and advertisers who have affiliate programs and allow their offers and programs to be promoted across the cashback & loyalty rewards platforms who act as publishers, can grow their affiliate program.
This growth is due to the massive scale and significant additional exposure and incremental revenue opportunities from the end-user customers who use the tools in the cashback rewards platforms.
Because of the affiliate program pricing model in which online retailers (e.g. advertisers) only pay publishers when a sale is actually made, participation in these types of marketing programs can be highly cost-effective for the merchants.
With the rising costs of CPC and CPM advertising, in which the retailers must spend money for clicks or "eyeballs" that may never actually produce a sale on their site, it's harder than ever to produce an acceptable return-on-ad-spend on these types of channels.
But affiliate marketing protects the return for the advertiser. Participating in the cashback and rewards programs as a distribution channel within their affiliate programs helps them cost-effectively grow the revenue from their affiliate marketing efforts.
Cashback and rewards platforms, as publishers in affiliate networks, are great candidates for advertisers. These type of publishers can increase the reach of an advertisers' offers to all the customers participating in those programs, and help them scale their affiliate program with virtually no additional work needed from the advertiser (other than to "approve" or "allow" their affiliate program to be shown in those types of publishers.)
As part of cashback and rewards platforms, browser extensions are beneficial to merchants for helping to drive conversion and increase the likelihood a shopper would choose a merchant in the first place.

Finally, cashback, coupons, and other incentives are tremendous drivers which positively influence consumer shopping behavior. From our shopping rewards survey data, we published an infographic illustrating the power of retail incentives to influence behavior both at the top of the purchase funnel, as well as at checkout.
For example, did you know that 81% of consumers are more likely to purchase from an online store offering some sort of cashback reward than one without?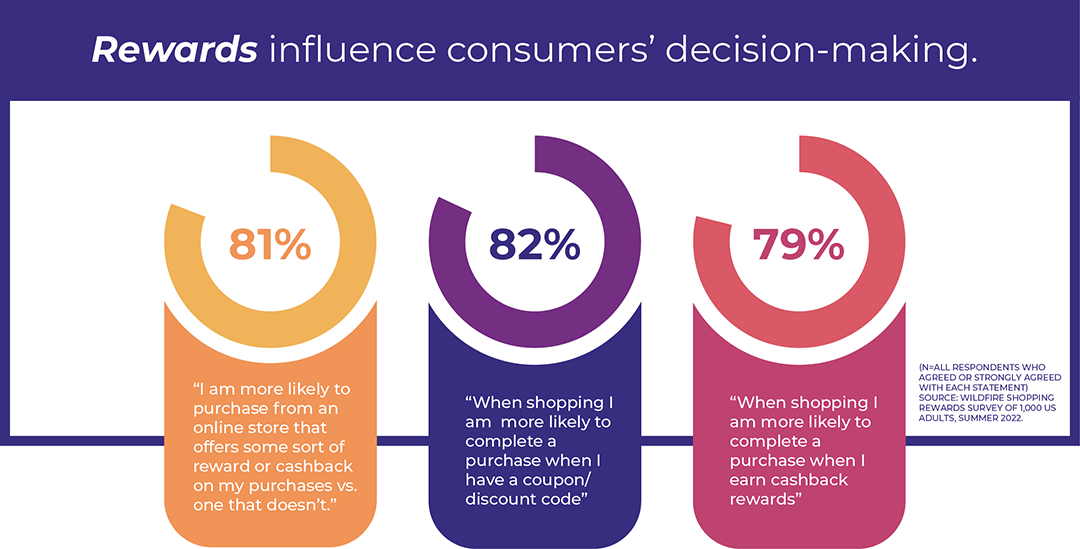 How to Create a Cashback Rewards Program: Build, Buy, or Partner?
Before launching a cashback rewards program, businesses must understand that there are strengths and weaknesses of each possible type of customer rewards program implementation.
1) Building Cashback Rewards Programs From Scratch
The first option for launching a cashback rewards program is to build it in-house. Though this may seem easy at first, there are many complicated steps to building out a cashback platform. In effect, a cashback platform is like a two-way marketplace for shoppers and online stores.
Therefore, the items a team will have to consider in order to build a cashback platform in-house include:
Building relationships with individual merchants

where customers can earn cashback, or plugging into an affiliate marketing network (note: the company will still have to secure approvals from the individual merchants in the network)
Capturing and attributing click and purchase data to an individual customer; taking that data and normalizing it and then keeping track of the transactions and cashback owed over time
Issuing cashback payments to customers who earned it
Managing customer support and inquiries about missing data, etc.
Creating the actual mechanism for how a customer will see cashback available offers - e.g. developing a cashback browser extension or mobile app, or developing a site with a rewards portal, etc.
And many more!
As you can see, creating cashback programs in-house presents some challenges.
For further reading, learn more about some first-hand hurdles that our partner OctoShop faced when they tried building their own network of merchants for a cashback feature in their price comparison app.
2) Buying or Licensing a Cashback Rewards Platform from a Third-Party Provider
The second option is for a company to work with a provider to launch a cashback platform or rewards program that a cashback company may have developed in-house but are licensing to other companies. Or, for a company to integrate a provider's technology and user experience into their own platform.
A good example of buying or licensing the technology from a third-party cashback provider is card-linked offers, also known as CLO.
Card-linked offers are typically implemented by a financial institution or a credit card issuer. With this type of cashback rewards program, the typical user experience is the customer logging in to their online account then seeing an "offer wall" or "shopping directory" listing the stores where they can get a cashback offer on purchases.
Next, the customer can click an offer to "activate" or "add it to their card" and then if they later make a purchase using that card at that store in the required timeframe, they will typically receive cashback as a statement credit to their card account.
The drawbacks to buying or licensing a cashback rewards platform from a card-linked offer provider are:
Time to launch: it can take up to 6 months for a program like this to be integrated, tested, and launched by the company
Limited number of offers: a customer might only see a hundred or so cashback offers available at any given time; and many of them might not be relevant to that customer
Awkward user experience: the customer has to take multiple unnatural steps outside of a typical shopping journey to activate a cashback award and then to actually receive it
Card-linked offer programs do have their own unique strengths, such as attributing online behavior to offline conversions (e.g. if an offer is redeemed in-store after the customer has activated it). And unlike building a program in house, typically the company will not have to do all the tracking and accounting.
But, each company should evaluate card-linked offers vs. other types of customer rewards programs and weigh the positives and negatives of each before making a decision.
3) Partner with a White-Label Cashback Rewards Platform Provider
The third way a company can implement a cashback rewards program is by partnering with a company with a white-label cashback platform that they can simply skin to their own brand.
In this case, with a cashback platform like Wildfire, we have already built all the difficult components of a customer rewards program:
the extensive

portfolio

of

merchant relationships

the tracking and attribution concerns - normalizing data among different affiliate networks, correctly attributing a sale to an end-user for cashback payout, etc.
the actual

customer interface

/

how they access

cashback offers (e.g. browser extensions with real-time cashback offer notifications, mobile cashback alerts, etc.)
For many companies, partnering with a white-label cashback rewards partner makes the most sense - because the complexities of a cashback platform have already been built-out, the amount of work to launch something to their customers is comparatively much easier than either of the two other cashback solutions described above.
In fact, Wildfire offers many turnkey solutions for cashback rewards that require minimal engineering and development work by the company launching the rewards program.
Wouldn't you love to offer a cashback rewards program just like what Honey offers?
Well, the key thing to remember here is that Honey is a proprietary cashback platform owned by PayPal. Same with Capital One Shopping, Rakuten, and many other proprietary companies.
But, with Wildfire's white-label platform features including:
... the Wildfire white-label cashback platform offers all these rewards features and more.
The difference is that it's not Honey.
It's not Capital One Shopping.
It's not a proprietary rewards platform launched and able to be used only by the company that built it.
Instead, the whole enterprise rewards platform's cashback and coupon features can be re-skinned on the surface to a particular company's brand so that company essentially owns the entire customer experience for cashback rewards on multiple shopping surfaces.
The existing technology and behind-the-scenes features which make the Wildfire white-label rewards platform so effective and so frictionless for end customers, remain in place for all third-party companies who partner with us for their own loyalty and cashback programs.
And Wildfire recently attained two critical information security certifications that should give any company confidence in working with a partner who maintains the highest data protections and security standards.
Examples of Cashback Rewards Programs for Consumers
To launch a cashback rewards program for your customers, you can deliver it in a variety of ways.
Assuming your company has built, is licensing, or is using a white-label rewards platform provider for the technology "behind the scenes," the only question that remains is, how will you actually surface cashback offers to customers?
The most common way to deliver cashback offers in real-time to customers who participate in a cashback rewards program is to use a browser extension that functions as a shopping companion for online shoppers.
Chrome Cashback Browser Extensions for Desktop
Browser extensions in general are useful tools which enhance the functionality of web browsers to provide useful features to people as they browse certain websites. Browser extensions as a general concept are available for developers to create additional functionality for almost all major web browsers.
For desktop computers, Chrome is the most popular web browser with over 64% of the browser market share and concurrently it also has the most browser extensions available in the Chrome Web Store (over 130,000).
Cashback browser extensions deliver exactly this kind of enhanced experience for customers who visit e-commerce websites.
The enhanced experience that a cashback browser extension provides on e-commerce websites is to display available cashback from a given retailer.
By "activating" (aka clicking on) the button shown in the cashback browser extension when they visit a retailer's web site, the customer is then affiliated with the browser extension as a Publisher (remember, this all works through online retailers' affiliate programs, plus the affiliate networks' tracking).
If the customer ultimately makes a purchase during that visit, the successful sale will be attributed to the browser extension.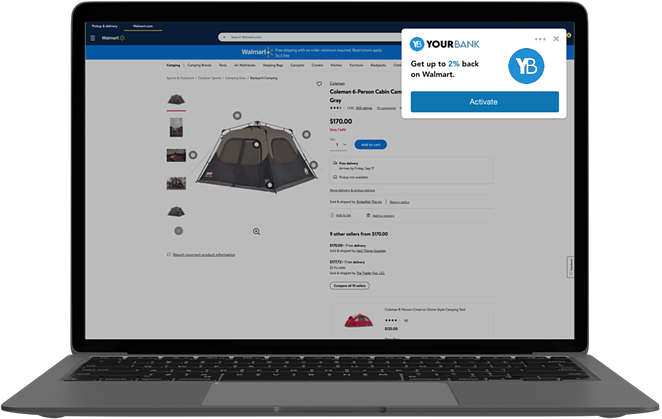 In turn, the retailer will pay an affiliate commission to the browser extension Publisher for that sale, and the customer will receive the promised cashback from their purchase from that commission.
Some examples of free Chrome browser extensions which help online shoppers identify cashback opportunities while shopping on e-commerce sites include:
iOS Mobile Safari Cashback Extensions
Safari is the second most-popular desktop web browser with approximately 19% of the market. Compared to Chrome, Safari doesn't have as many desktop browser extensions in its gallery.
But for mobile devices, Apple launched browser extension capability for the iOS Safari mobile browser, making mobile Safari browser extensions available for iOS 15 in the fall of 2021. (Although we feel the user experience of installing a mobile Safari extension can be awkward, the extended capabilities for online shoppers are certainly appreciated.)
As mobile shopping continues its march to dominance, adding mobile cashback browser extensions is simply a must-have.
Here are a few examples of iOS Mobile Safari Extensions, which help online shoppers identify cashback opportunities while shopping on e-commerce sites using their iPhone:
Shopping Sites
Another option for displaying cashback opportunities to customers is to employ a "Shopping Site." This concept is also referred to as an "Offer Wall," a "Rewards Portal," or an "Offer Directory."
In a nutshell, the way a shopping site works is to showcase a wide variety of cashback offers available to a customer, all in one place.
These offers are typically accessed from a proprietary area accessible through login to an account. For example, many credit card companies or banks with a rewards program will often provide a Rewards Portal to their account holders. Customers see the offer wall once they have logged in to their account.
The downside to a rewards portal is that it ultimately attempts to make customers change their shopping behavior and take unnatural detours on their online shopping journey.
Ask yourself, when was the last time you needed new running shoes and started your search… in your bank account?
Shopping sites / offer walls aren't inherently "bad. " They're a great complement to other features of a cashback rewards program but shouldn't just stand alone. Customers just don't shop this way!
Here are some examples of shopping sites / offer walls: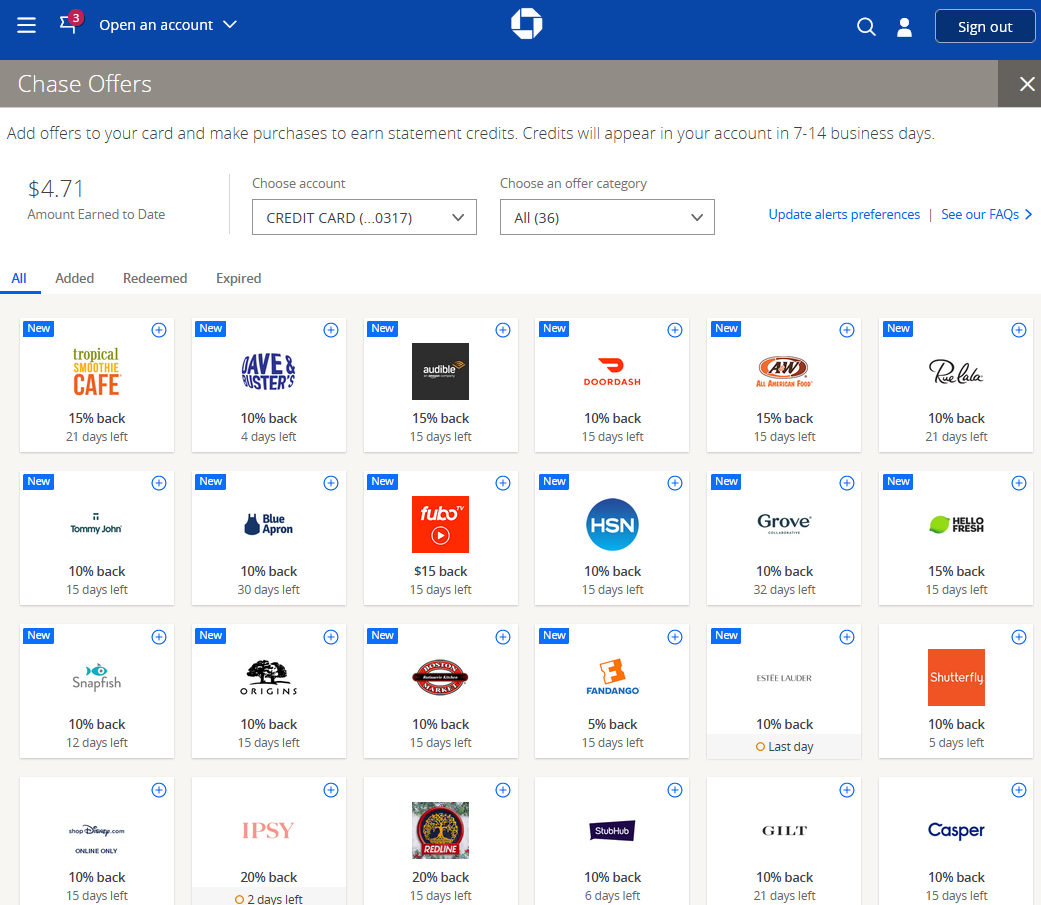 Example: Offer Wall from Chase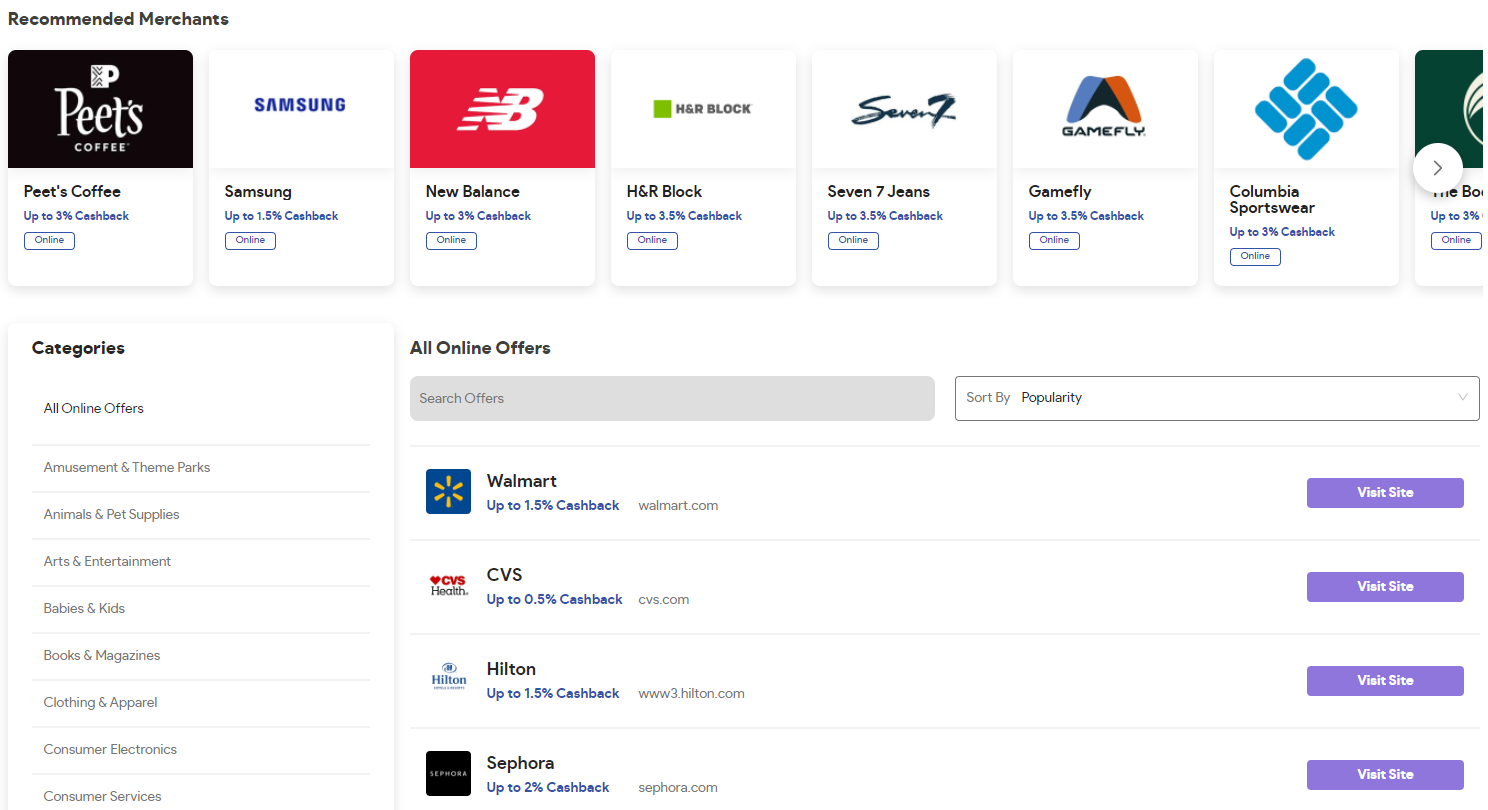 Example: Offer Wall from Givebacks
An offer wall / shopping directory is a great way to complement a browser-extension-based cashback program. And Wildfire's JSON feeds and APIs make it easy for companies who want to create an offer wall of cashback or digital coupons for their customers.
Digital Coupons
Showcasing digital coupons from online retailers to customers is yet another option for offering the benefits of a cashback program.
Companies that already have a customer-facing app or website and want to add a wide selection of digital coupons for customers to help them shop smarter, can plug coupons in from a reputable provider.
Ideally, the coupon feed will be nearly flawless and will have timely offers, so that consumers experience a good shopping experience (e.g. unexpired codes that actually work.)
The additional benefit of adding a digital coupon feed means the sponsoring company can introduce one more place where they can capture the customer's click and be affiliated with any subsequent purchase.
Plus, the company offering these high-quality coupons becomes a trusted shopping companion with relevant and timely offers.
Alternately, Wildfire offers a standalone coupon-auto apply function which can be integrated into an existing product or service to help differentiate that product with timely coupon offers applied at the shopping cart.
Tips and Reminders: How to Succeed with a Cashback Rewards Program
Whether you build, buy, or partner to create your own customer rewards program, simply developing it is not enough.
In fact, before you even embark on your cashback rewards journey, you should consider the following points that will help ensure your cashback program has participation from your customers, and produces the results you were expecting.
We recommend that you think carefully about how your company will support each of these areas when considering a cashback rewards program of your own.
1) Organizational Structure / Available Support for the Program
To successfully launch a cashback rewards program for your company, you must have a dedicated resource on the team who will effectively be the program's product owner.
If you expect your cashback program to grow and deliver the results that you're projecting, you need to have someone actively managing every aspect of it.
This person will be your internal champion, making sure that the new program:
Has performance metrics and goals, AND receives regular reporting on results vs. these goals
Has the correct positioning to customers
Is supported by enough marketing to drive results
Maximizes any optimization and growth opportunities
Without the equivalent of a product manager, responsible for the overall performance of the cashback rewards program, your new program is likely to be orphaned in the organization, and only receive attention when people notice that it's not performing as it should.
2) Integration to your overall value proposition
At the same time, your cashback rewards program should tie directly back to your company's mission. In effect, ask, "Why did we launch a rewards program for our customers?"
At Wildfire, most of our partners who launched cashback rewards using our white-label rewards platform, are closely related to the business of managing money, or they have a mission to improve customers' financial health or simplify a budget.
In these cases, the tie-in to these companies' overall mission is obvious. They launched cashback rewards to add value for their customers by helping them save money and find deals when they shop online.
But cashback rewards programs are not limited to simply "saving money." While this is indeed a huge benefit, it's possible to use cashback rewards in other creative ways that also align with a company's mission. Take, for example, Wildfire's partner, Givebacks.
How Givebacks is using a Cashback Platform Creatively
Givebacks is a fundraising platform that helps nonprofits, PTAs, and other causes to raise money from small donors.
Through their partnership with Wildfire, Givebacks launched a Chrome cashback browser extension, an iOS Safari cashback mobile extension, mobile cashback alerts on Android phones, and a shopping directory.
E-commerce cashback earned from shoppers using these features at Givebacks enables participating causes to easily switch-on passive fundraising efforts by their supporters choosing to automatically donate all or part of their cashback earned from online shopping.
Read the Givebacks / Wildfire case study here.
MillionPugs is using Shopping Rewards to Fund In-Game Upgrades
Another example is our partnership with MillionPugs. This company is a rewards platform for gamers, who can earn "Pugs" from online shopping that they can in turn use for in-game content and upgrades.
MillionPugs is using the Wildfire cashback platform to offer additional shopping rewards opportunities at thousands of online stores, that will translate into Pugs for their users to spend in games.
To wrap up, these are just two examples, but there are many creative and flexible ways to use Wildfire's white-label cashback platform to create rewards opportunities for your customers which tie in to your overall mission statement and business strategy.
In effect, think about making rewards a part of your overall company DNA.
3) Marketing Support
You know what they say, you can have a great product, but without marketing, it's doomed to fail. The same goes for cashback rewards programs.
Just imagine - whether you build, buy, or partner to create your cashback rewards program, you've spend time and resources to create it… and now you need to make sure you get the word out to your customers so they actually begin using it!
It is critical that you plan extensive marketing support for your new cashback rewards program. This includes:
Determining the key messaging & benefits for customers (including what to do about ad blockers about how they may affect your cashback program)
Knowing what opportunities you have to share the new program with customers (e.g. messages to email subscribers, in-app notifications, cross-promotions on your web site, your social media, etc…)
Creating an outreach campaign with multiple touch points to inform your customers once the cashback program goes live
Monitoring the results of your marketing efforts - how well did each one, for example, drive installs of your Chrome cashback browser extension?
Planning for how you will drive usage of the program, e.g. once customers have installed your browser extension, how will you encourage them to use it every time they shop? Remind them of the benefits.
Making it a key feature with benefits that you tout to any new customers, e.g. messaging it during the onboarding process
A company's dedicated rewards program "owner" would be the responsible for each of these items and more, as their success goals will be directly influenced by the success of marketing the new rewards program to your customers.
They should be on the lookout for all relevant opportunities to include messaging about your company's rewards program, and act as the advocate to ensure the messaging is included wherever possible.
For extra inspiration, you can take a look at what one of the biggest cashback rewards programs is doing - check out our coverage of Capital One Shopping's marketing for their cashback and coupon program.
Resources for Cashback Rewards Programs
These resources should be helpful as you continue your journey towards building a cashback or loyalty rewards program for your customers: